Monday March 23, 2009
Yeah, so this whole blogging every day thing took a dive this week. My excuse: I've instituted a new exercise regime which means I go to the gym and pilates at 7 in the morning rather than the evening - but I haven't actually gotten the whole getting 8 hours sleep thing before getting up at 6am thing down yet, and have consequently been exhausted upon reaching home.
Additional to the lack of blogging, the whole new regime has meant that I haven't cooked much in the last week, eating mostly salad bowls for lunch and pawpaw salad from Green Palace for dinner most nights. Exciting! ... not...
Onto other business, now that I'm actually here.
This loldog caught my eye this week, and really describes that way I feel about all animals, not just companion animals. It's as close as possible as I can get to explain why I'm vegan - simply and complexly because I choose not to use another being's innocent life (say, for instance, via the research or food industries) purely to serve my own selfish "needs" (or more precisely, "wants").
Anyway, vegan rant off my chest, let's talk about food, shall we?
I made mini pizzas on either Thursday or Friday last week, and they went off pretty well, which I was very happy about.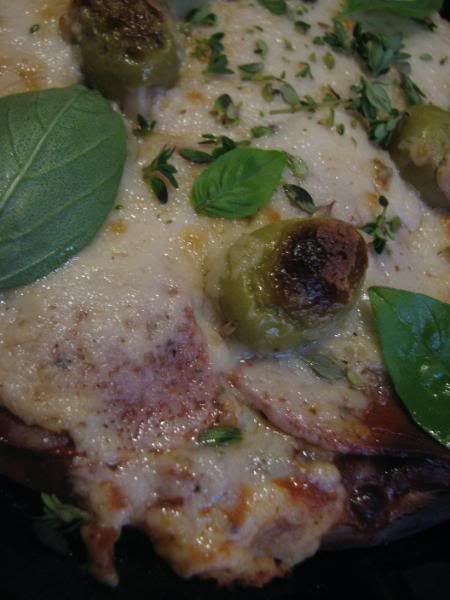 I got a gluten free crust and spread it with some salsa left over from Tuesday's Mexican meal. I topped it with mushrooms, vegan pepperoni, green olives stuffed with garlic, and Cheezly mozzarella. I cooked it in a really hot oven (220 degrees Celcius) for 10 minutes, and then switched it to just the grill and was really happy to see that the Cheezly mozzarella melted impressively. I sprinkled the pizza with fresh lemon thyme, and fresh basil leaves from my garden.
I served the mini pizzas with a cos lettuce salad, with sprouts, nutritional yeast, pepitas, flaxseed oil and balsamic vinegar.
The weekend's foods were mostly made up of pasta (first in almost three weeks, was pretty happy with that) and Lebanese foods from Granpa's Lebanese in Hurstville.
Tonight's dinner was a revisiting of a great salad I made some time in October last year - a kindoflikecaesarsalad.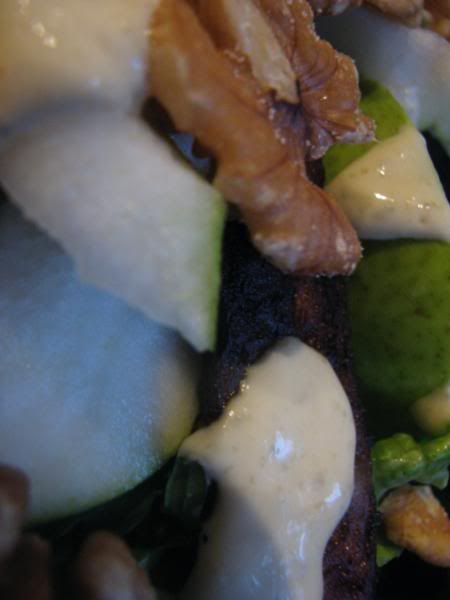 Creamy Ozymandias Dressing
(it's not Alexander, but it is a bit fruity...)
Ingredients
3 garlic cloves, roughly chopped
1/4 teaspoon mustard
1 tablespoon spelt syrup
1 tablespoon capers
1 tablespoon capers liquid
2 tablespoons nutritional yeast
1/4 cup soy milk
1/4 cup lemon juice
1 teaspoon seasoning salt
1 teaspoon hot sauce
1/2 cup soy cream cheese
Method
Whizz everything up in a food processor until very smooth.
I marinated tempeh strips in a marinade of sweet soy sauce, pomegranate molasses, Braggs, tamari, umesu, garlic powder, hot sauce, apple cider vinegar and smoked paprika, then fried the bejesus out of them and left them to cool a little whilst I made the salad.
The greens for the salad were rocket, spinach and cos. I roughly chopped them and tossed them in half of the dressing. I added sliced pear, walnuts and the torn up tempeh strips. I drizzled a little extra of the dressing over the whole thing and then I nommed on down. Very very nice. Will definitely be making that salad more often. And I have leftovers for lunch, yay!
I've got a good week of menus planned out, and have a plan of actually sleeping for more than five hours each night, so should be back on the blogging horse from now on!!