Excessive success!!
Warning: This post contains a ridiculous number of photos, because a) I am very proud of this recipe, and b) I was having a stupidly good time making it!! (And c) I think it's pretty...)
My sponge experiments continue anon - I believe I may have reached my apex in cake making with this latest experiment, however. Yup, ZB has made a vegan black forest cake...a tasty, low fat, almost sugar free, ridiculously rich and excessive vegan black forest cake!! I tried a couple of new things with this cake, and I'm incredibly happy with it. I also screwed up a couple of things when I was cooking this cake, and it still worked!! Yay!!
I'm really surprised that I haven't found any vegan black forest cake recipes out there - there are variants on the cherry/chocolate theme, but none attempting that pure black forest cake experience (not that I could find, anyway). So this is my first attempt, I'm sure I'll change the recipe over time, but for something that I made up over the last week, I'm pretty insanely happy with it!!
What's even better is that I experimented with two ingredients I had never used before - guar gum for thickening the cashew cream (most of the recipes I found used oil for this, and I wanted to try to keep everything fairly low fat - plus I was worried that you would be able to taste the oil. And, you know, always fun to play with new ingredients!), and stevia for sweetening the cashew cream. Stevia is a natural sweetener, from a plant, and creates no glucose reaction in the body (making it a perfect sweetener for diabetics or folks with insulin resistance), even though it is around 200 times sweeter than sugar!! More information on both guar gum and stevia can be found in the links in the recipe.
So, without further non-recipe and food porn waffling, may I present:
Black Forest Cake
Chocolate Cake
1 heaping cup unbleached plain flour
1 heaping cup unbleached spelt flour
3/4 to 1 cup good quality cocoa powder
1/2 scant cup muscovado sugar
2 teaspoons baking soda
1/4 scant cup maple syrup
1 cup drained cherry liquid
1/2 cup apple sauce
2 tablespoons apple cider vinegar
Cashew Cream
1 heaping cup raw cashews (and water to cover to soak)
1/2 cup water (or as needed)
Pure vanilla extract to taste
1/16 to 1/8 teaspoon
stevia
3/4 teaspoon
guar
or
xanthan gum
Chocolate Mousse
1 block (100g) good quality vegan chocolate (I use Lindt 70 or 85% cocoa)
1 package (200g) silken tofu, gently drained
3 tablespoons apple sauce
1/2 cup drained cherry liquid
Stevia or maple syrup to taste (remember, this cake shouldn't be too sweet, and the chocolate mousse will sit with the cherries and the cream, which will sweeten it)
1/4 teaspoon guar or xanthan gum
Other
Sour (or Morello) cherries
- generally sold in bottles (about 1 kilo - I used most of 2 x 680g jars of sour cherries)
Drained cherry liquid
Method
Chocolate Cake
Preheat your oven to 180 to 200 degrees celcius. Grease and flour an 8inch round baking tin.
Sift together the dry ingredients – as much as possible!! This really makes for a softer, lighter, more sponge like cake. Mix together the wet ingredients. Carefully pour the wet into the dry, moving the dry around whilst pouring, to ensure even coverage. This mix will foam, so do not overmix, but make sure that everything is mixed together and there are no lumps. Pour the foaming mixture into the baking tin, and put into the oven for at least an hour to an hour and a half, or until a knife put into the centre comes out dry.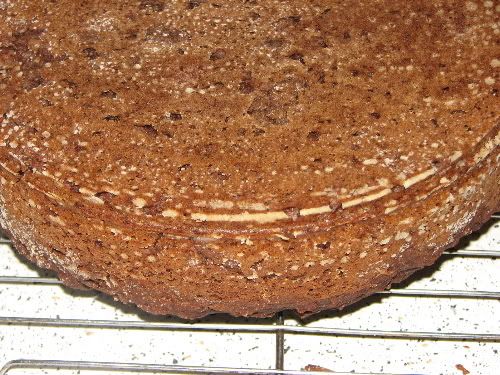 You can see here that the top forms a quite firm crust, though the rest of the cake is light and spongy. I used the top of the cake as the middle layer in the finished cake, so that it got softened and soaked by all the mousse and cream and cherries.
Set the cake aside to cool in the tin for about 10 minutes, then turn it out to cool on a cooling rack. When it has cooled to the touch, slice it into three horizontal equal slices. These will form the layers of the cake.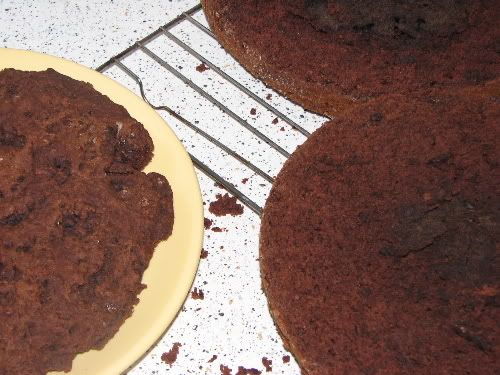 Pour the remainder of the reserved drained cherry liquid onto the slices, and leave to cool and soak in.
Cashew Cream
Soak the raw cashews for a minimum of six hours, completely covered in water, in the fridge. Drain and rinse the cashews, and place into a food processor. Process the cashews, with water, until they have reached a paste consistency – not too thick, but not too watery either! Keep processing to ensure that all graininess from the nuts is gone. As you are processing (and scraping down the sides occasionally), add the vanilla extract and stevia to taste. I found the stevia a really intense flavour, and I thought that the amount I'd used was too much. However, the intensity of the stevia settles overnight, and I found it was just perfect with the cake!!
After you have flavoured the cream to your liking, start adding the guar or xanthan gum – add a quarter of a teaspoon at a time, and check the consistency after processing each teaspoon. I aimed for a very thick consistency, as I wanted to be able to pipe the cream – but you can stop at your desired consistency, if you're not going to pipe or decorate the top of the cake with the cream. And remember, it will thicken a little more in the fridge.
Put the cream (covered) in the fridge to chill. Wash the food processor bowl!
Chocolate Mousse
Break up the chocolate into a metal bowl, and create a double boiler by placing the metal bowl above a saucepan which has about a third full of boiling water in it.
Melt the chocolate, and set the metal bowl to one side.
Put the silken tofu and drained cherry liquid into the food processor, and process until broken down and combined. Pour in the melted chocolate, and process until smooth and well combined. Add the applesauce, and process until very creamy and smooth. Taste for sweetness. If sweetening, use the sweetener of choice (about 1/16 teaspoon stevia, or 1 to 2 tablespoons maple syrup), and process until combined.
You can also add about a quarter of a teaspoon of guar gum to the mousse, to assist in it setting and holding in the layers of the cake.
Put the mousse (covered) in the fridge to chill.
Putting it all together
On a plate or cake holder, put the bottom layer slice of cake down. Smear the whole layer liberally (and to the edge) with chocolate mousse.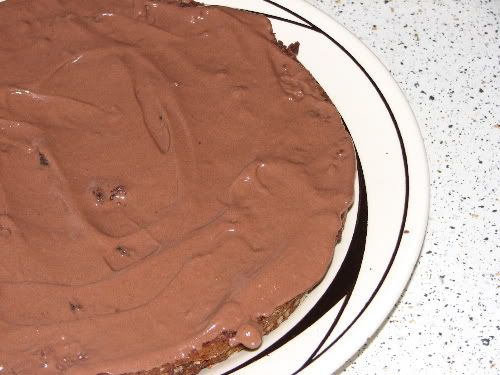 Using a different spatula, smear a layer of cashew cream on top of the chocolate mousse. You will get a little bit of a mix of the two at this point, so use a gentle touch. Cover the cake layer with cherries, up to about a centimetre from the edge all around – the pressure from the top layers will push the cherries out.
Take the next layer and place it on top of the bottom layer. Repeat the mousse/cream/cherry process. Take the top layer and place it on top of the middle layer.
Smooth chocolate mousse thickly on the top layer – let it drip down the sides! (I like a rustic feel to my cake decorating!!) I recommend piping the cream at this point, because you won't run the danger of mixing the chocolate and cream.
Pipe the cream in whatever decorative pattern you want to use, and scatter cherries in a pretty pattern between the cream patterns.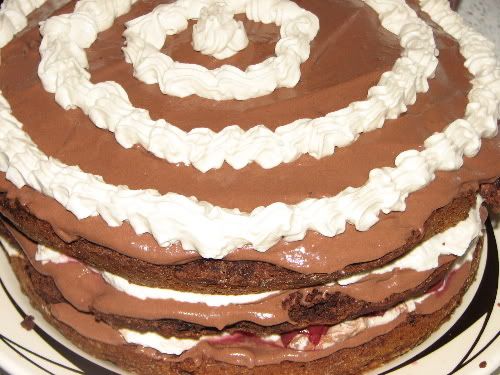 You can top all of this with chocolate curls, but the flavour is great without them, and the presentation is also pretty fabby!!
Let the cake chill overnight – this is very important to allow the flavours to meld, and to get that lovely moist rich black forest cake texture.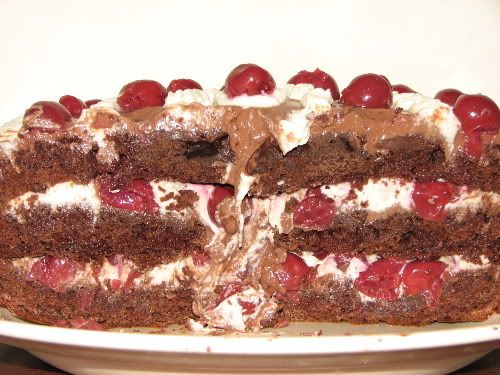 Share with good friends, and enjoy to the fullest!!