Cauliflower Soup with Tempeh Croutons
As it's winter, I'm beginning to explore a range of soups for dinner. I mix a protein with vegetables and seasonings, whizz with the blender and boom! Soup in 30 minutes.
This soup is fine by itself, but the smoky tempeh croutons really make the dish sing.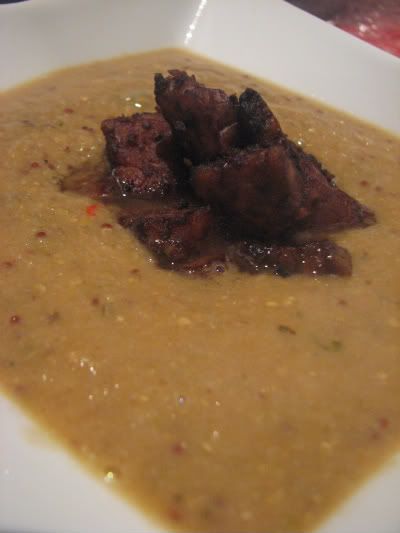 Cauliflower Soup
Ingredients
70g white beans
150g cauliflower, cut into florets
20g spring onion, chopped
2 garlic cloves, minced
1 small chilli, minced
1 teaspoon mustard seeds
1 teaspoon dijon mustard
1 teaspoon mixed savoury herbs (heavy on the sage)
1/2 teaspoon cumin
1/2 teaspoon coriander
1 tablespoon barley miso
1/2 tablespoon olive oil
2 tablespoons lemon juice
1 to 2 cups water
1/4 cup nutritional yeast
Method
Steam cauliflower until tender.
Heat olive oil in saucepan over medium heat. Saute spring onion, garlic and chillies for one minute. Add the beans and coat with the spring onion. Add mustard seeds, mustard, herbs, cumin, coriander, miso and mix together into a paste. Cook, stirring constantly, for two minutes. Add water and lemon juice, mix together well, and bring to a simmer for ten minutes.
Add the steamed cauliflower and simmer for another ten minutes. Take off the heat and cool for five minutes. Using a hand blender, blend until as smooth as possible. Place back on the heat, stir in the nutritional yeast and simmer for another two minutes, stirring constantly.
Serve topped with the tempeh croutons (recipe below).
Tempeh Croutons
Ingredients
100g tempeh
1 tablespoon liquid smoke
1/4 cup sweet soy sauce
1/4 cup balsamic vinegar
1/4 cup water
1/2 tablespoon olive oil

Method
Preheat the oven to 200 degrees Celcius.
Mix the liquid smoke, soy sauce, balsamic vinegar and water into a small saucepan and put over a low heat and slowly simmer.
Cut tempeh into 1/2cm slices, and then into 1cm wide croutons. Put the croutons into the warm marinade and simmer for 15 minutes, stirring occasionally.
Take off the heat.
Pour 1/2 tablespoon olive in a baking dish. Pour in the tempeh and remaining marinade and make sure that the tempeh is in a single layer.
Bake until the tempeh is sticky and dark golden and the marinade has all evaporated.
Cool until the soup is ready.