Marinated Tempeh/Tofu Steaks & Shiitake Mushroom Sauce
I had friends over for dinner on Monday night (dinner and
Castle
, which is so much fun!), and had a really hard time figuring out what to make. The following recipe feeds three relatively hungry folks (and follows the rules of my new diet, I might add!) As a first go 'round, it was okay, but there are things that I could happily tweak in it.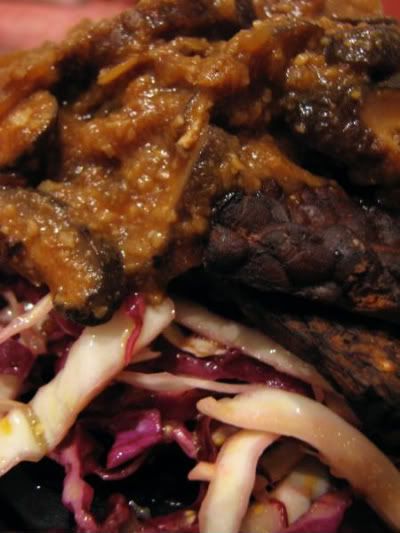 Ingredients
Marinated Tempeh and Tofu Steaks
380g tempeh and tofu
2 tablespoons miso
1 tablespoon pomegranate molasses
3 tablespoons BBQ sauce
1/4 cup warm water
1 teaspoon Braggs
1 teaspoon liquid smoke
Shiitake Mushroom Sauce
150g rehydrated shiitake mushrooms (weighed after being rehydrated)
150g onion
210g canned tomatoes
2 cloves garlic
70g chickpeas
60g tamari almonds
reserved mushroom soaking liquid (about 2 cups)
reserved marinade (about 1/3 cup)
Method
Cut the tempeh and tofu into 10cm wide, 25cm long, 1cm thick "steaks".
Whisk the marinade ingredients - miso to liquid smoke - together, add the tempeh and tofu and marinate for at least an hour.
Preheat oven to 180 degrees Celcius.
Remove hard stalks from shiitake mushrooms and cut shiitake mushrooms into strips. Slice onion into half moons. Mince garlic.
Blend the tomatoes with 1/4 cup of the reserved mushroom soaking liquid until smooth. Set to one side.
Blend the chickpeas and tamari almonds with 1/4 cup of the reserved mushroom soaking liquid until smooth. Set to one side.
Heat 1 1/2 tablespoons olive oil in a frying pan over a medium hot heat. Fry the tempeh and tofu steaks until just coloured on both sides, and transfer to a baking pan. Cover the baking pan with foil and place in the preheated oven. Bake for about 20 to 30 minutes, the last 10 minutes uncovered.
In the same frying pan, heat the remaining olive oil and add the onions. Fry the onions until translucent, then add the garlic. Deglaze as required using a little of the mushroom soaking liquid. Add the blended tomatoes and the reserved marinade. Simmer until the mixture begins to thicken a little. Add the blended chickpeas and almonds, the shiitake mushrooms and the remainder of the mushroom soaking liquid. Simmer until thickened - if it gets too thick, add 1/3 to 1/2 cup water as required.
Serve the tempeh and tofu steaks on top of coleslaw (with a dressing of 1 teaspoon dijon mustard, 1 teaspoon of seeded mushroom, 2 tablespoons lemon juice, 3 tablespoons flaxseed oil and salt and pepper to taste) topped with the mushroom sauce.
I really liked using the chickpeas and nuts instead of flour to thicken the gravy/sauce, and it's definitely something I'll try again.