Spiced Apple and Date Tart
This recipe just sort of wandered into my head one day, and it was vaguely middle eastern in the spices and the use of fresh dates, so I decided to make it for a lebanese feast.
I really wanted to make a sweet tofu "ricotta" - I didn't really like ricotta when I was an omnivore, but it works so well in tarts, and I wanted to see if I could recreate that taste and texture.
The topping could really be any fruit, but I had a whole lot of apples kicking about, and wanted something that would be soft but with bite, and would soak up a lot of flavour when poached. But mostly it was because I had lots of apples sitting around with nothing to do!!
Because this is a recipe I made up, the amounts are really approximate - a lot of this was to taste, and I only really scrawled down the ingredients, not the amounts! So experiment with the amounts to your own satisfaction!!
Spiced Apple and Date Tart
Ingredients
Base
I cheated and used a packaged pastry mix, because I am lazy. I put about a cup of crushed nuts and fresh ginger that I had pulverized together in my food processor in with the pastry mix, as well as about a tablespoon of vegan sugar.
"Ricotta"
200g packet firm tofu, liquid squeezed out
1 cup applesauce
lemon juice
1/2 cup agave nectar
nutmeg, optional
Poaching Liquid
1/2 cup vegan sugar
rind of one lemon
cinnamon stick
2 star anise
fresh ginger to taste
2 cups water
about 10 small apples
5 fresh dates
mint leaves (optional)
Method
Base
Preheat your oven to about 180 degrees celcius.
Press your pastry mixture into a springform pan, and using a fork, make a pretty pattern around the sides. Put into the oven, and bake until golden. Set aside to cool.
"Ricotta"
In a food processor, process the tofu until broken down. Add applesauce to assist in creating a smooth texture, and lemon juice to taste. Finally, add the agave nectar to desired sweetness. I really processed this mixture a lot, as I wanted it as smooth as possible, while still retaining some of the ricotta
mouthfeel
. If the mixture is tasting to "tofu-y", add a little more applesauce/lemon juice, and a small dash of nutmeg.
Put into the fridge to cool. The flavours will come together more as it cools, so test again before putting the tart together, to see if you need to add any more agave nectar/nutmeg etc.
Poaching Liquid
Put all of the poaching liquid ingredients together into a saucepan, and bring to a nice simmer, making sure the sugar is dissolved. You may need to add more water during this process.
Peel, core and thickly slice the apples. Place into the poaching liquid, and poach until soft but still firm. Remove the apples and set aside to cool.
Remove the cinnamon stick, star anise, lemon rind and ginger from the poaching liquid, and bring to the boil. Cook down until it has formed a thick caramel, and take off the heat.
Pit and slice the fresh dates into quarters.
Putting it all together
Spoon or pour the ricotta into the cooled base. Arrange the apples on top of the ricotta, and intersperse with the fresh dates. If using, place some mint leaves in between the apples and dates.
Carefully drizzle the top with the caramel.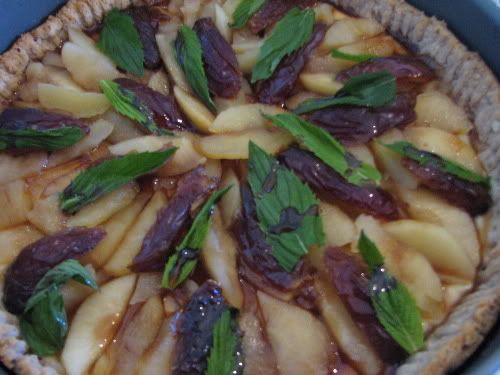 Chill until ready to serve.