Melbourne! Book Launch! Bake Off! Tattoo! Melbourne!
So, here's my report on the Vegan Indulgence book launch and vegan Melbourne experience.
Legend...wait for it....ary.
And we're done!
Let's do this mostly in photos, 'kay?
Thursday
Knee high [Samette style] vegan boots
from
Vegan Wares
- measured and ordered.
Lunch at Las Vegan Bakery - bueno and mucho tasty. I had a entil burger and chips and some lemon cake and some chai and lots of chats with Lia and Liam and it was brilliant and I'd like to go back please thank you. If you're on
Facebook
or
MySpace
, go and befriend Las Vegan - they are more than worth it!! Plus, you know, whenever you're in Collingwood - eat there!!
Dinner was...at a pizza place in Altona, where we had two types of pizza and garlic bread, after walking Dallas along a bizarre beach from which you can see the refinery. No food photos (though the pizzas were freaking fantabulous), but here are some pretty pictures from the walk:
Swan!!
Refinery sunset
Rockpool
What did I do on Friday? I know I went out to the Casino in the evening with some fellow Browncoats, and consumed copious cocktails. Oh yes! I'm pretty sure that's the day that I had a pork roll from Fitzroy, and then had an Oreo milkshake from Shakeaway from High(Knife)Point Mall.
I was crap at taking photos of the food I consumed, can you tell? I was too excited about having access to it all!!
Saturday...well, Saturday was all about the Great Vegan Bake-Off...which went absolutely out of control - it was amazing!! There were about 80 people there, and 39 entries. I hated being a judge because I was constantly being astounded by every new dish I was testing!! It was really incredibly difficult, and really lots of sugary fun. I know that there is always going to be controversy over who did and did not win, but I felt that it was mostly about getting a big group of vegans and vegan-friendly folks together in a room and celebrating just how incredibly talented, persistent, inventive and overall awesome we vegans are. And I think on that level, the Bake-off was a roaring success.
Witness the creakingly overladen (still to be further laden!) tables of treats:
Third place getter in the top corner - Vanilla Slice with Passionfruit Icing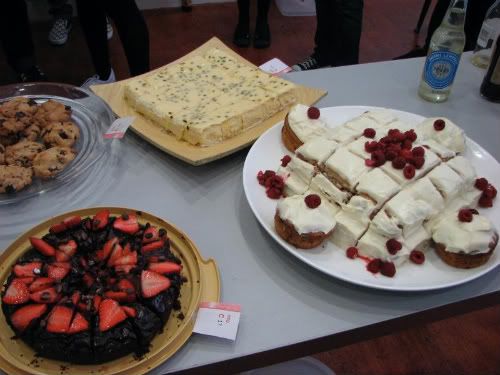 The winner, top left hand corner: Kickass Lemon and Berry Cheesecake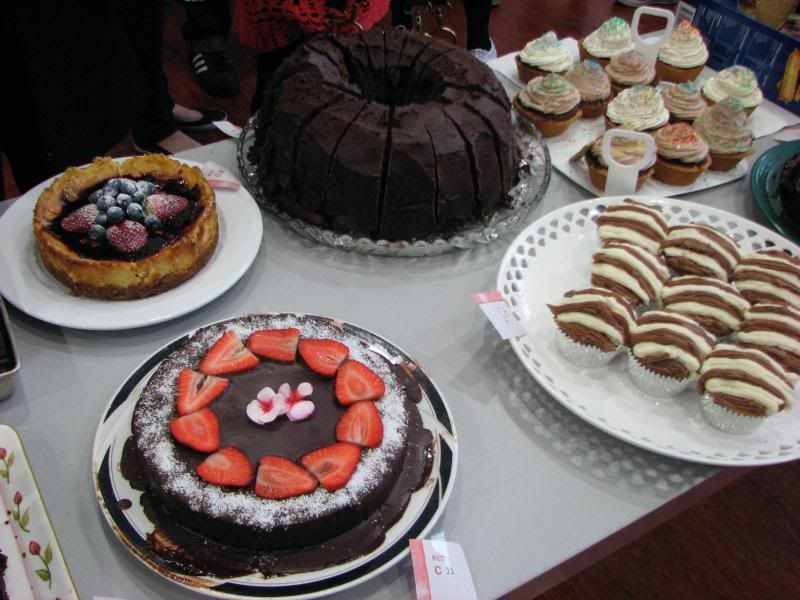 I don't seem to have any photos of the second place getter, Chocolate Peanut Butter Fudge Cupcakes.
For a more comprehensive and possibly more entertaining wrap up, go to
aduki's wrap up
. It's also got links to lots of photo sets, just to show the diversity and talent of vegan bakers in Melbourne!! I'm looking forward to that talent being shown off on an annual basis!!
I recovered from the insane sugar rush (I was hot and sweating and shaking and a little sugared out by the end of judging!) by consuming
Lord of the Fries
- a
burger
and a
cone of fries
smothered (and I mean smothered) in
vegan gravy
. Oh.My.God. My arteries are going "clang" just thinking about it, but I consumed that meal twice in two days and damn it all I'd do it again, I tells ya!!
Then there was beer.
On Sunday I made pancakes and tempeh bacon with maple sauce for breakfast, and then wandered around the Victoria Markets, discovered a vegan date and walnut loaf, had LotF (as previously mentioned) for lunch, and had noodles at a little vegetarian place in Fitzroy (I think - it's all starting to get a bit fuzzy by this point!) for dinner. There was napping and playing with the cutest staffy in the world somewhere in there as well.
I may have fallen a bit in love with Dallas. Don't tell my cats!
Monday was tempeh BLAT for lunch and then off to get tattoo done....and then home again because they were busy on that day and I only really finagled my way in on the Tuesday by pulling the "out of state vegan wants a vegan tattoo please please" thing. But thankfully it worked.
Dinner on Monday was
$10 Parma night
at the
East Brunswick Club
- OMG!! Giant vegan parma on chips with salad, followed by two different vegan cakes (I shared them with someone, I swear!) in a pub with an enterprising chef. So fucking brilliant. Plus got to meet a lot of the ppk crew, and hang out with Lia and Michael from Las Vegan again.
Tuesday...pies! sausage rolls! pasties! Donuts, omygod the donuts!!!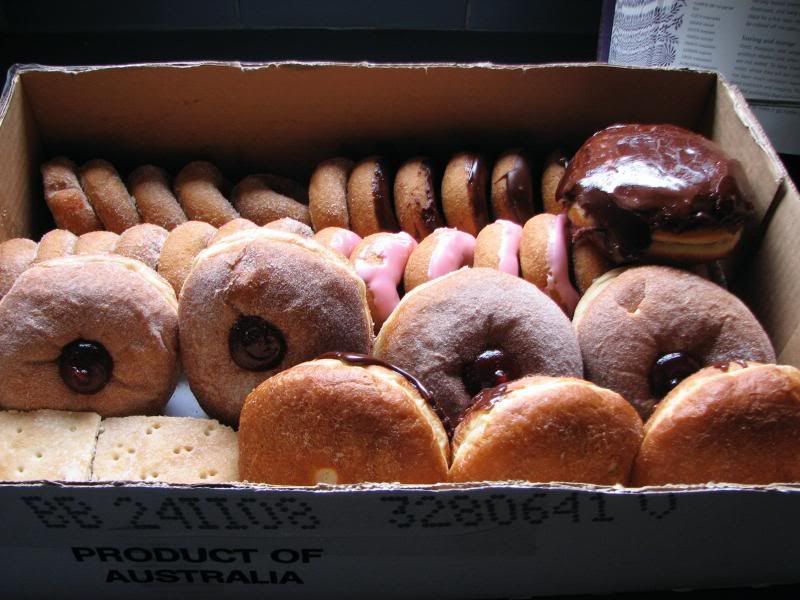 These were not all for me, I hasten to add!! I took a box of these donuts, and pies, sausage rolls and pasties back to Sydney for my vegan donut deprived friends! All from
La Panella in Preston.
I'm already planning my next trip to Melbourne around getting more goodies from there!! My favourites were the (unpictured) sausage rolls and pasties. Tomato sauce-y goodness!!
And finally, tattoo!!! I went to
Down to Earth Tattoos
in Essendon, vegan run, vegan staff, vegan inks, vegan tattoos. Yayayayayayyayay!! I got a little creature from the Moomin books (it appears under the chapter list in Comet in Moominland and nowhere else, and it looks so quizzical and surprised, that it just makes me happy every time I look at it!) It's on the upper inside of my left forearm. Lots of 3/4 length shirts for me in the office from here on in!!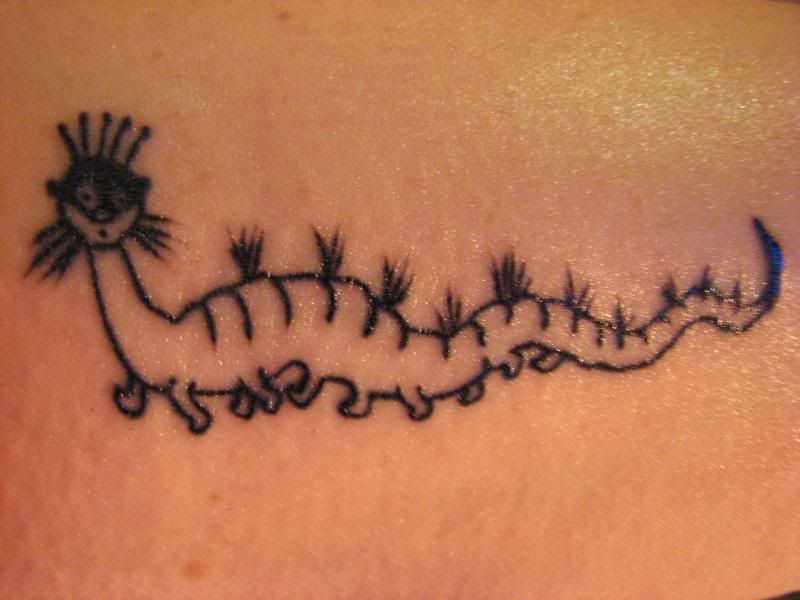 I am enamoured of Melbourne, for many reasons (the weather, the buildings, the trams, the tinyness of it, the non-Sydney-ness of it), but have now got another ginormous reason. I know that I barely scraped the surface of the vegan-friendliness of this city, and damned if I'm going to miss out on sampling all of its' delights, food or otherwise! I'm definitely going to be back down there soon!
And now back to your regularly scheduled food blogging! (Probably)