Catch up, catch up, catch up...
....It's been a busy few months, with very little actual cooking taking place.
What's the news? Hmmm....
I've been running my vegan cookery classes quite successfully - I had a full class, but have had a couple of dropouts a couple of weeks into the class. Still have 13 folks going strong, though, which is great - and most of them are omnivores!! Very cool. Have been having a lot of fun, and am pleased to announce that I'll be running
another set of classes in Third Term - August 4 to September 22
. Do come along if you're interested in playing with some fun and yummy vegan foods!!
Like these ones:
Polenta Crusted Tofu Sticks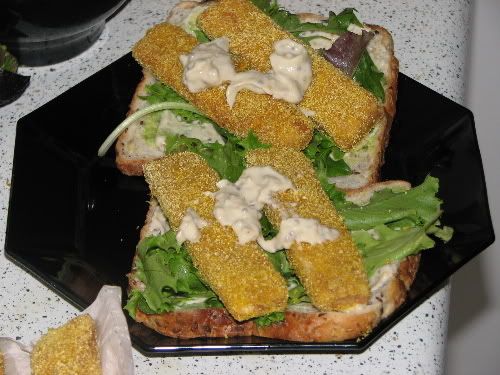 Extra firm tofu marinated in lemon juice/nutritional yeast, covered in polenta, shallow fried, served on wholegrain bread with cos lettuce and topped with home made mustardy tahini mayonnaise.
Or this lovely salad of peaches, avocado and rocket, topped with an olive oil/lemon dressing: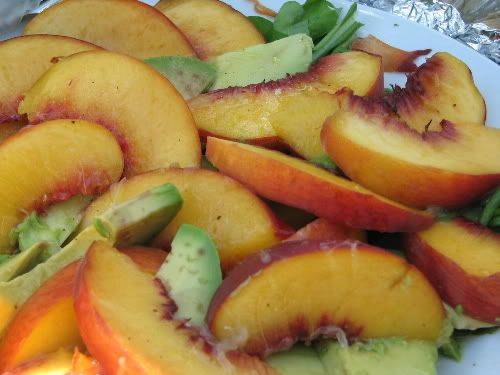 What else?
I've just finished reading Vegan Freak: Being Vegan in a Non-Vegan World, and am feeling very inspired and happy to be vegan. That's cool.
Am thinking of putting together a pilot for a vegan cookery show - some time before the end of the year, though. I'm moving slowly.
I have many pictures of foods to be uploaded to the interwebs and written about, including stuffed mushrooms, a sexy-ass picture of different ways to serve spicy beans, and some yummy yummy choc-raspberry brownies.
I'm also going to ask my class if they'd be happy for their likenesses to plastered across the interwebs (or at least this section of it), so expect some photos from my classes soon!!