Another quick catchup wot contains photos, and then some recipes in the next post. Blogger, for some reason, doesn't want to let me give this post a title. Which is kind of appropriate, really.
I've been organising next term's classes - going to be lots of fun!! Made some changes to the lineup so that it's not so much about dinner (which was the "theme" for last term) and is more about taking stuff away with you (given that the classes are running in the mid-afternoon, this seemed like the best plan).
I've got a couple of photos from last term - on the last night I took my camera in, all ready to go crazy with the photo taking....and then it turned out that the batteries had died and I didn't have any more on me. *sigh*
So these photos are from an earlier class, one of the weeks where there were folks off sick. If any of the students who are in the photos are reading this blog and want the photos removed, please leave a message in the comments section!
One half of the class waiting around for the tofu quiches to finish cooking: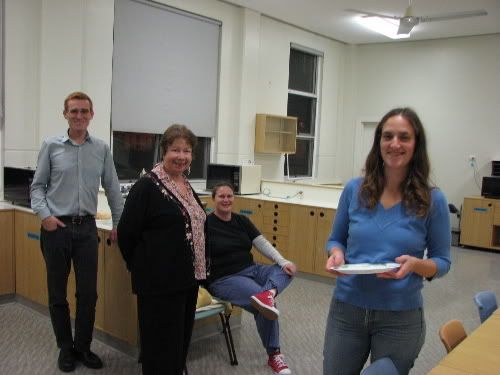 The other half of the class waiting for the quiches to finish cooking (notice how the table is set - we'd finish up the class with a big communal meal. Probably my favourite part of the classes!!)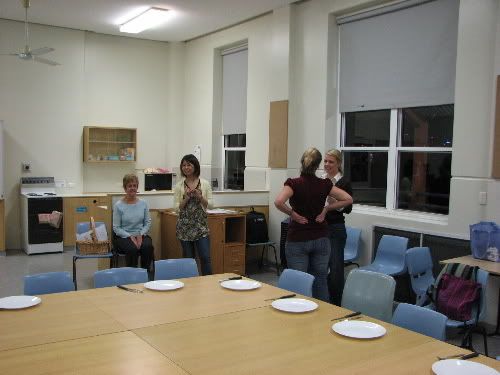 Some examples of the foods my students cooked: Spinach and Sundried Tomato "Quiche"
Mediterranean Quinoa Salad and Tex Mex Salad
Chocolate Hazelnut Raspberry Brownies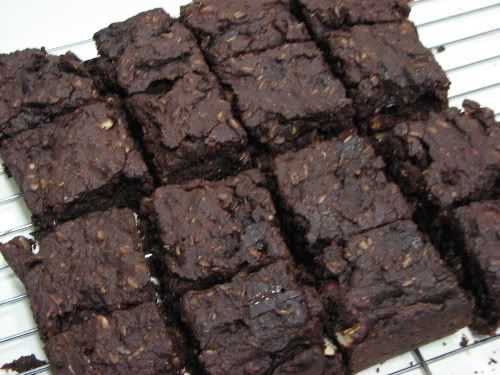 Finally, as promised in my previous post, here's a sexy and very fun way to serve spicy beans (if you're bored of serving them as part of nachos, enchiladas, burritos, on top of baked potatoes, with dirty rice....)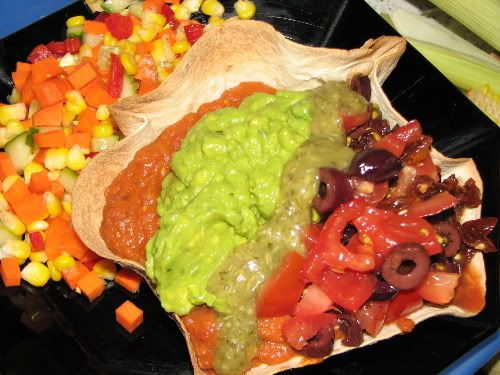 Home made tostada goodness!! Take a burrito, press it in a bowl shape around a foil wrapped giant potato wot you don't want any more (or appropriately sized/shaped oven proof dish) and bake until browned on the edges - about 7 minutes. Take out of the oven and let cool - it will harden as it cools. Fill it with beans, salsa, chilli sauce, guacamole...Serve it with shredded veges and corn chips...mmmmm....
Baking extravaganza recipes in the next post (which hopefully should take less than a month to write)!!