Classic Red Cabbage
I learnt to make this when I was working as an apprentice at a French restaurant, and there was lots of duck fat and red wine and sugar involved. My version is a little more sedate...It's great served hot with vege sausages/Not!Bacon of choice/marinated tofu, or just some steamed veges and mash. I like to make a lemon sauce to go with the steamed veges - it complements the sweet/tart/vinegaryness of the cabbage...
Classic Red Cabbage
Ingredients
1/2 medium red cabbage
8 very small apples
3 small onions
1 to 2 tablespoons whole peppercorns
1/2 to 1 cup red wine vinegar
1/2 to 1 cup water
olive oil
Method
Slice the cabbage thinly - this is called
chiffonade
, and is usually a cutting style reserved for leafy vegetables. Core and slice the apples thinly. Slice the onions thinly.
In a large heavy bottomed pan, heat the olive oil over a medium heat. Add the onions, and cook until translucent. Add the cabbage - you may need to do this in two lots, as cabbage appears to expand exponentially when sliced. Stir to allow the cabbage to begin wilting. Add the apples, and stir through thoroughly.
Add the peppercorns - I go crazy and add heaps, but they can be a bit of a shock when you're eating and encounter them whole! But it adds a separate moment of flavour, which is kind of fun.
Pour in the vinegar and water - you want the cabbage to be about half to two thirds covered. You may need to add more water and/or vinegar as the cabbage cooks.
Cook over a medium low heat, stirring regularly and adding liquid as required, until the cabbage is soft, there is no more liquid, and the apples and onions have "disappeared".
Serve hot as described above, or cool as a side salad for lunch! This is a great and versatile side dish. Whenever I make it, I feel like I'm aiming up a class with the meal I'm about to present. And mega tasty!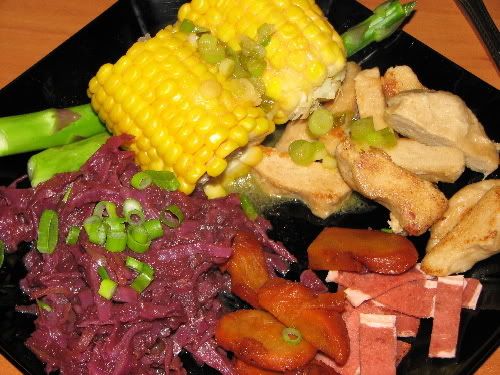 Share and enjoy!!