I loves me spinach [/Popeye]
In my quest to eat lots of leafy greens, and yet avoid just eating salads (because I am strangely salad-phobic...I think it's because, when I go out to eat, I keep getting presented with salads as the only option for a vegan, and that really gets right up my left nostril) I'm consuming an awful lot of spinach - in this case, silverbeet.
I love spinach. I love spinach pies, and spinach cannelloni, and spinach ravioli, and baby spinach in salads and on salad sandwiches. The stuff is great, and packed to the gills with flavour and nutritional goodness.
I was inspired by a recipe in the
Organic Gardene
r magazine to make the following salad...meal...thingy. There were actually three salads making up the meal, so this is going to be a ginormous post...
Warm Sweet Potato and Spinach Salad
Ingredients
1 - 2 medium sweet potatoes, cut into chunks
several cloves of garlic
equal amount of fresh ginger to garlic, cut into small chunks
fresh rosemary, about 1/3 cup
olive oil
sea salt
peppercorns
1/2 bunch of spinach, leaves shredded and stems finely chopped
lemon juice to taste

Method
Preheat the oven to about 150 degrees celcius.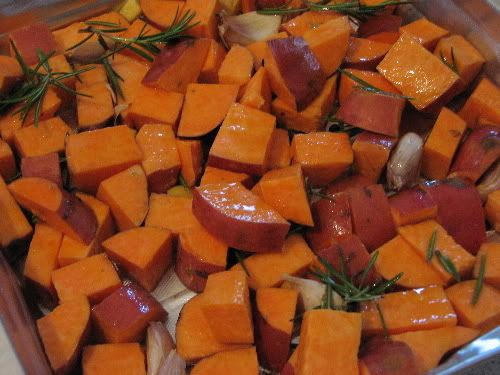 Put the sweet potato chunks, garlic cloves, ginger, rosemary, sea salt and peppercorns into a baking dish. Drizzle with olive oil, and mix thoroughly together to coat everything with the olive oil. Place in the oven, and cook (turning the dish occasionally) until the sweet potatoes are lovely and soft.
When the sweet potatoes are cooked, put to one side. In a saucepan over a medium heat, pour in a little of the olive oil from the baking dish, and heat. Add the chopped spinach stems, and cook until softened. Add the spinach leaves, and toss through the lemon juice until the spinach wilts a little. Turn off the heat, and add everything from the baking dish to the spinach mix. Mix through thoroughly, pour into a bowl, and serve.
Couscous Salad
The version of this I made was a little plain, but I decided that a bit of lemon zest and lemon juice would bring the taste up to another level. It's great with the spinach and sweet potato salad - very filling!
Ingredients
1 cup couscous
1 1/2 cups stock
1/2 cup raisins
1/3 cup dried cranberries
1/2 cup raw cashews
zest of one lemon
juice of half a lemon
olive oil (optional)
Method


Soak the raisins and cranberries in the stock until plump. Pour about 1 cup of stock into a saucepan and heat it to boiling. Add the couscous, and remove the saucepan from the heat. Stir thoroughly and set to one side for about 5 minutes, for the couscous to absorb all of the liquid. Fluff with a fork.
Dry fry the cashews in a frypan over a high heat, then add the raisins, cranberries, lemon zest, and any left over stock. Cook until the stock is almost cooked off. Add the couscous to the frying pan, and toss through to mix the nuts and fruits thoroughly through the couscous. Pour into a bowl, drizzle a little olive oil and the lemon juice, and serve.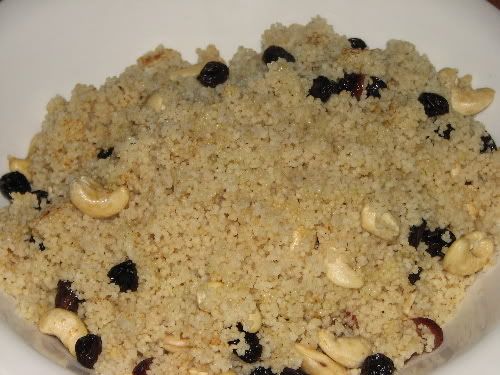 The final fabulous salad was put together by TheBoss - a great green salad, with radishes and avocado and baby tomatoes and cucumber and red onion and...it was crunchy and fresh and very tasty with
Iku
dressing...
It's coming up to salad weather, so experiment with using some new ingredients, lots of fresh veges, and make sure to share and enjoy!!