Sorbet-y goodness
As the weather turns to summer (at least in the hemisphere on what I am living), and fruit ripens faster, I start looking for a way to use the fruit before it goes off (often due to the new only-two-pieces-of-fruit-a-day restriction under which I am living). I don't want to waste any fruity goodness, and I really don't want to waste it when it's something like pawpaw...mmmmm....pawpaw.
So I made Pawpaw and Orange Sorbet. It was fresh and creamy and incredibly tasty (notice the "was" there - I'm cooking and consuming faster than I can blog the recipes!!) And incredibly easy to make, if you have a food processor...It's probably even easier if you have an icecream maker as well!! I don't have an icecream maker (though I am thinking about getting one), so I went with the relatively old fashioned way to make this sorbet...
Creamy Pawpaw and Orange Sorbet
Ingredients
1 medium sized very very ripe pawpaw, cut into chunks
1 x 250g packet silken tofu
1-2 tablespoons of
agave nectar
(available through most health food stores)
juice of 3 to 4 oranges
Method
In your handy food processor, blend the chunks of pawpaw until it is mushed up. Add the silken tofu, and blend until the ingredients are well mixed together. Slowly add the juice of the oranges, and the agave nectar. The orange juice is mostly to cover the taste of the tofu, so taste occasionally - the more juice is in the mix, the more ice crystal-y and less creamy the sorbet will be.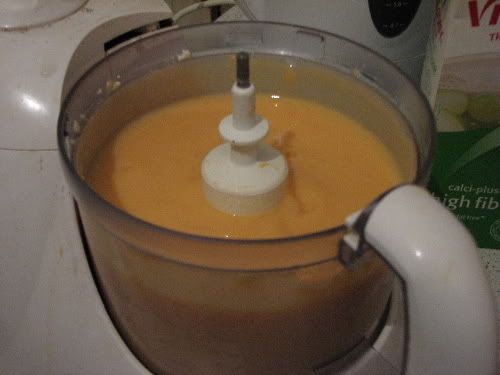 Pour the mix into a airtight container and put into the freezer. Every couple of hours, as the mix starts to get quite icy, take the mix out and whip, either in the food processor, or with a whisk. Repeat this whipping process at least 3 times - doing it more times really won't hurt, but may cut into your time for other things you might like to do...
Leave the sorbet to freeze completely, defrost until just soft, and whip in the food processor again until it reaches a "soft serve" consistency - soft and creamy but still obviously frozen. Pour back into the air tight container and refreeze.
Allow to defrost for about an hour before serving and stir a little before spooning out scoops.
Put out some scoops, add some freshly cut fruit, prepare for an instant icecream headache and...share and enjoy!!