From the cupboard to your plate.
There are times when I'm in the mood for extreme-stick-to-the-ribs pasta sauce. I want heavy, I want extremely flavoursome, I want lots...
I satisy this craving with Nutmeat Pasta. I used to make this pasta sauce using TVP (textured vegetable protein) or soy mince, but I prefer the
nutmeat
(scroll to the third from the bottom) - it breaks down into the sauce more, and I find that the flavour is not as intrusive as that of
TVP or soy mince
. That's not to say that you can't use TVP or soy mince in this recipe - please do!
Another thing that I love about this recipe is that, if you only have the canned goods, and you don't have any fresh veges kicking about, you can still make a tasty, relatively healthy meal.
So...
Nutmeat Pasta
Ingredients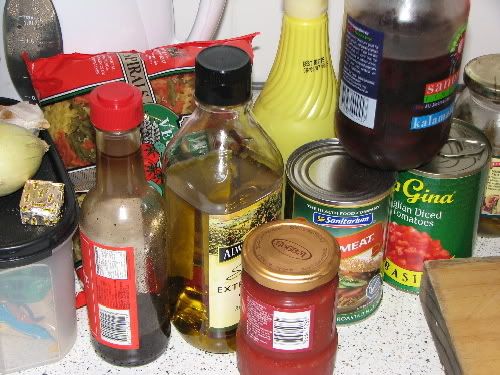 1 x 415g can of Nutmeat, finely chopped (or same volume of reconstituted TVP or soy mince)
2 x 400g can of tomatoes
garlic to taste, minced (I use a huge amount of garlic, so this is to taste - you can use fresh or bottled, though bottled will give you more intense garlic breath than fresh)
onion, chopped (optional)
1/2 cup pitted kalamata olives, chopped (optional)
1/2 cup mushrooms, chopped (optional - it's also fun to use the canned champignon mushrooms, they have a very different texture)
2 tablespoons dried or fresh "Italian" herbs
1 tablespoon tomato paste
vege stock cube
olive oil
juice of 1 lemon
vegan worcestshire sauce - two to three dashes
pepper
Pasta (I like to use
Vegeroni
, but any pasta is fine)
Method
Set a large pot of salted water on the stove to boil. When the sauce is about 15 minutes off ready, cook your pasta of choice.
Heat the oil in a large heavy bottomed saucepan, over a medium heat. Throw in the onion and garlic, and cook until translucent but not coloured. If you are using dried herbs, throw in half of them now. Add the nutmeat/TVP/soy mince, and stir quickly. It will stick, so deglaze with a little lemon juice. Add the tomato paste, and stir until mixed. Add both cans of tomatoes, half fill each of the cans of tomatoes with water, and set to one side. Stir so that everything is well combined. Pour in the rest of the lemon juice and the worcestshire sauce. Season with the pepper, crumble the stock cube in and pour in the water from the tomato cans.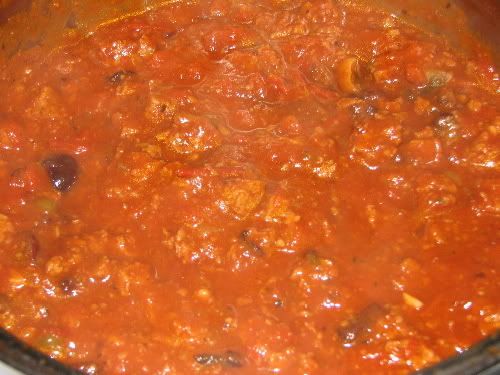 Turn the heat to low medium, and leave to cook for about 40 minutes, or until the liquid has cooked off and the sauce is darker and having a
Vesuvius
moment. You will need to stir this sauce regularly, as it
will
stick as it cooks.
Pour generous amounts of the sauce over your drained pasta, serve with salad and garlic bread, and share and enjoy!