Queensland Adventures 2 - Lunch at My Heart Garden
My Heart Garden...what a wonderful place! It's in St Lucia, near the UQ campus, and the moment that I walked into the sunfilled, fresh smelling and very calm shop, I was ready to sit and relax and eat until I couldn't walk. Which is just as well, as that's what we ended up doing!
Our host for the day was Kapila and the lovely woman in the kitchen was Durba - there was a lovely (and very ego boosting whilst entirely embarrassing for me) moment when Susan told Durba that I'd written Vegan Indulgence and Durba got very excited because she has a copy at home and was really happy to meet me. And I her, and Kapila, they were both just so friendly and sweet and totally engaged in what they're trying to achieve with My Heart Garden.
Also very good about having a photo taken to celebrate the wonderful time I'd had there.
So. The important stuff. The fud.
I was so happy because OMG I wanted to eat everything and couldn't (but did try very hard to do so), so if you are in Brisbane you MUST go there and try as many things as possible!!
Many foods!!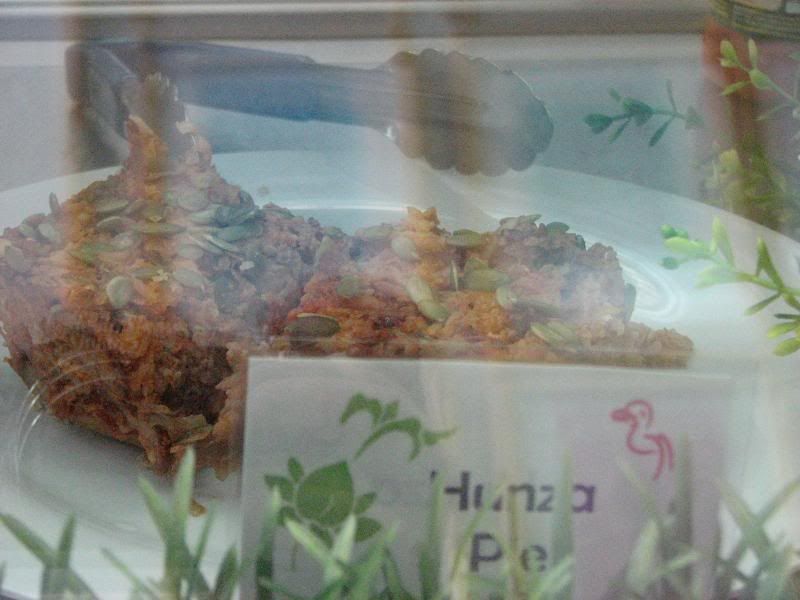 I got one of the little Not Sausage Rolls home to have as midnight snack (I ate it and a peanut butter chocolate cupcake that Susan made me in the hotel bed whilst reading the third
Sookie Stackhouse
novel - I'd read the first on the plane and the second the previous night. It was at that moment that I realised that I was on holiday....)
There are many more yummies on display, but you'll just have to go and experience them yourself.
Anyhoo, Susan and I both had the Bliss Burger, a wonderful lentil patty on a bap with mango chutney and vegan mayonnaise and salad and peanut sauce and NOM!
Another shot, I hear you say? Oh well, okay then.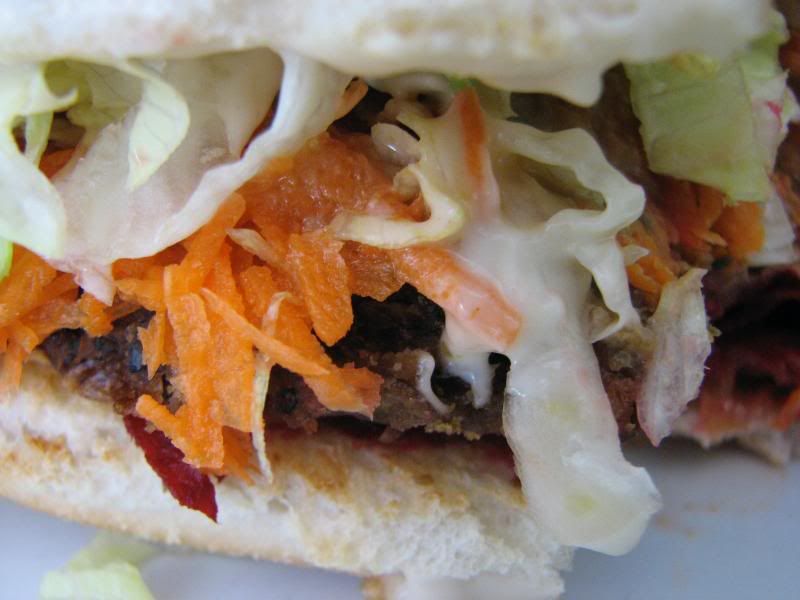 Then Susan and I decided to attempt to break the most-desserts-eaten-in-one-sitting record, by sharing the following four (yes, four) desserts.
Chocolate cake with chocolate icing, heated up so that the icing turns all saucy
Banana Pudding Brownie (yes, from Vegan with a Vengeance)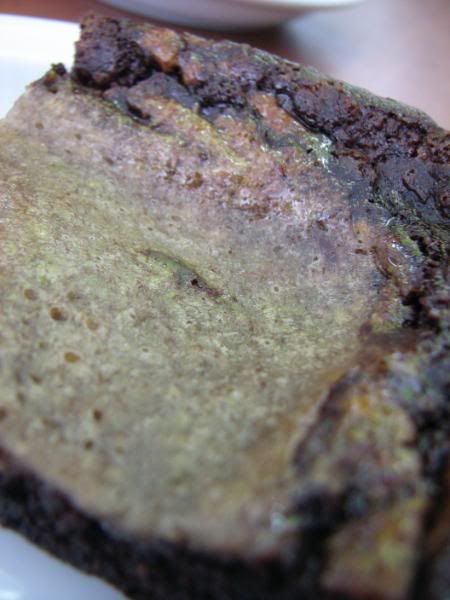 We rested for a bit after finishing these ones - here we are halfway through our first round: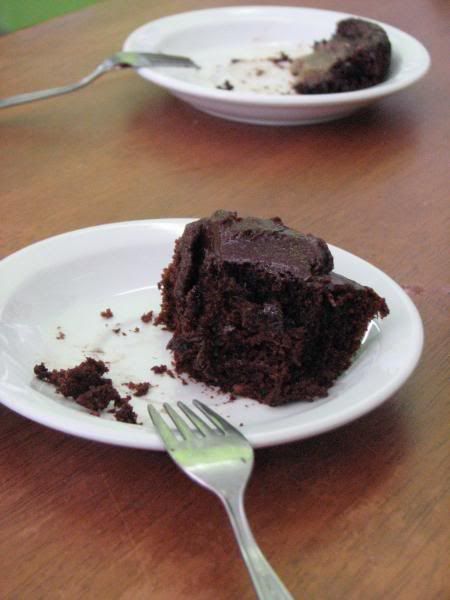 *ding ding* Second Round!!
Maple Pumpkin Cheezcake (with bonus Susan-taking-food-porn shot in the background)
Finally, the piece de resistance, the Nanaimo Bar. This was...head explodingly sugary (seriously, I had to take painkillers after eating it - so very worth it!), but also really tasty and definitely addictive. I had never had a Nanaimo Bar before, but my understanding is that it is a Canadian delicacy brought recently to these distant shores. My thanks, Canadians, for bringing this ridiculously sweet sweet to my attention!!
Of course, my favourite thing about going out to eat with other people who have food blogs - taking photos of food in public places is not as weird when both of you are doing it.
We sat and groaned and drank peppermint tea and regretted (but not really) the dessert craziness, before rolling off to Susan's place (where there was much cat worshipping of Sahara, Gizmo and Dim Sim), and then heading (much too early for our poor stomachs) to Loving Hut for the last meal of the day - and the meal that would defeat Susan!! But more of that later...
My Heart Garden
Shop 5/225 Hawken Drive (opposite Coles)
St Lucia 4067
Telephone: (07) 38708898