Mmmmiddle Eastern sweets pt 1
I recently had friends over for another Lebanese feast, which was really an excuse to make some yummy middle eastern sweets - baklava, mamoul and a middle eastern inspired tart. I had a great time doing it, and mamoul have become a default bicky for me to make - easy and very tasty.
Mamoul are basically a stuffed rosewater flavoured shortbread - you can either stuff them with dates or mixed ground nuts.
I got the original recipe
here
, and veganized it thusly:
Mamoul with Dates
Ingredients


Dough
2 cups plain flour
1 tablespoon dry sweetener (I used muscovado sugar)
220g Nuttlex
1 tablespoon rosewater
1/4 cup soymilk
Date filling
440g pitted and chopped dates (dried or fresh is fine)
1/2 to 1 cup water
Method
Put the dates and the water (use more water if the dates are dried) into a saucepan, and cook over a low heat until the dates have become mushy and the consistency of a thick paste, and there is no water left. Set aside to cool.
Combine the flour, sugar and Nuttelex together with your fingers, working the Nuttelex into the flour until the flour has a crumbly consistency. Add the rosewater and soymilk, and mix with a knife until completely combined. The mixture will be very sticky, but don't freak out! Turn out onto a lightly floured surface, and knead until the dough is soft and pliable. Cover and set aside for half an hour.
Take about an unshelled walnut sized piece of dough, and roll into a ball. Slowly flatten the dough with your fingers until it is about four centimetres in diameter, and about 1/2 centimetre thick. Place a mound of date mixture in the centre, and bring up the sides of the dough - you may need to gently press down the filling to do so. There are a variety of shapes you can make - press it down to form a smooth ball again, or form into a crescent by pressing the folded edges together with your fingers.
Place the mamoul, smoothest side up, on a greased and floured flat baking tray. Flatten slightly, and if you want, make a pattern on the top with a fork. Put into your preheated oven for about 20 minutes - remove from the oven when firm, but before the mamoul begin to brown.
Cool completely and serve. You can dust them in icing sugar, but I like them without it!!
Mamoul with Nuts
The nut mixture ingredients are:
2 cups finely chopped walnuts, almonds or pistachios
1 cup dry sweetener
1 tablespoon rosewater or cinnamon
Follow the instructions for the stuffing and baking of the date mamoul.
For my second batch of mamoul, I got a little excited with the shaping (I'm practising my tortellini shaping), and here's the results: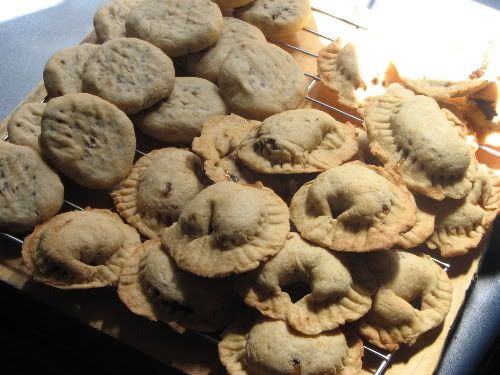 Serve with strong coffee at the end of a delicious Lebanese meal!!