Not so much the crazed chocolate insanity, but still...sweeties!!
'kay, these following recipes were my two "healthy" additions to the chocolates I gave everyone for Xmas. I love both of these very much (in fact, the apricot/coconut balls are my favourites of anything ever!!), and they're really simple...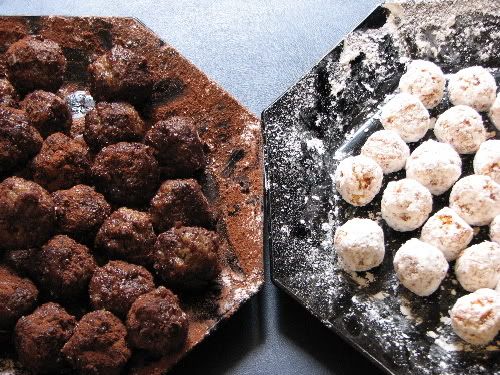 ...if you have a food processor. Have I mentioned recently my increasing reliance upon my food processor?
H
alva
is a great sweet - rich and creamy and exotic tasting. I've always loved sesame halva. The following recipe for
Halva Balls
(via vegweb, submitted by Veagan23) is a tasty and very rich variation on the halva I grew up with.
Halva Balls
Ingredients
1/2 cup raisins
1/2 cup dates
1/2 cup
tahini
Optional - sesame seeds/icing sugar/cocoa to coat
Method
If using dried dates, place in a steamer basket over boiling water until soft. Allow to cool.
Place the raisins and dates together in the food processor, and blend quickly to combine. Pour in the tahini and process until a thick paste has been formed.
Pour onto a plate in a 1 inch thick layer, and allow to cool.
Use either a teaspoon or your hands to form balls. At this point, you can coat in sesame seeds, or dust with cocoa or icing sugar.
Keep chilled.
Apricots
are a great source of
beta carotene
(and thus
Vitamin A
) and
iron
. Plus, bonus, yummy!! The following really ridiculously extremely simple
recipe
[
/Zoolander
] from cooks.com is easy to make and produces that nectar of my childhood:
Apricot Coconut Balls
Ingredients
1 cup dried apricots
1 and a 1/2 cups shredded coconut
1 - 2 tablespoons citrus juice (lemon/lime/orange/grapefruit)
Additional 1/2 cup coconut
Optional - confectioner's/icing sugar
Method
Place the dried apricots in a steaming basket over boiling water until soft and plump. Set aside to cool.
Put the additional 1/2 cup coconut in food processor, and process until powdery. Put to one side.
Put apricots and citrus juice in food processor, and blend to combine. Add the coconut, and process until the mixture is firm (if the mixture does not get firm enough to form into balls, or remains sticky, add a little confectioner's/icing sugar or more coconut to firm it up).
Form into small balls, and roll in the powdered coconut. Alternatively, you can dust them with confectioner's/icing sugar. Allow to dry at room temperature for at least 4 hours.