I Can't Believe It's Not Butter Chicken
There are a few foodstuffs that I miss now that I've been vegan for a while. Haloumi is definitely one of those foodstuffs, and creamy mild tasty Indian gravies are another.
I've been yearning for a butter chicken-esque (though probably more accurately, I've been yearning for the tomatoey creamy gravy, rather than the chicken) experience quite a bit recently, and was surprised to find
a recipe on (yes, I spend a lot of time there!) vegweb
.
So, being me, I adapted it slightly. I also made some seriously nice side dishes of rice pilaf and fresh mango raita, and it was a great and tasty food experience!!
I'm going to split those recipes out over a few posts, as I think that's a bit easier to find!!
I Can't Believe It's Not Butter Chicken
Thanks to K2, who posted the original recipe on vegweb.
Ingredients
3 tablespoons of Nuttelex
1 onion, finely chopped
1/4 teaspoon cinnamon
4 cloves of minced garlic
2 teaspoons fresh minced ginger
1/4 teaspoon garam masala
1 teaspoon chilli powder
1 teaspoon ground coriander
1/2 teaspoon ground turmeric
1/4 cup tahini
1 x 400g can diced tomatoes
1 tablespoon of tomato paste
1/3 cup
Tofutti Sour Supreme
Your preferred amount of either Not!Chicken (I get some great stuff from Vegan's Choice) or extra firm tofu, frozen, defrosted and pressed, torn into chunks. I prefer using the tofu, because sometimes the chicken flavour can overpower the delicate flavours of the gravy
1/2 cup water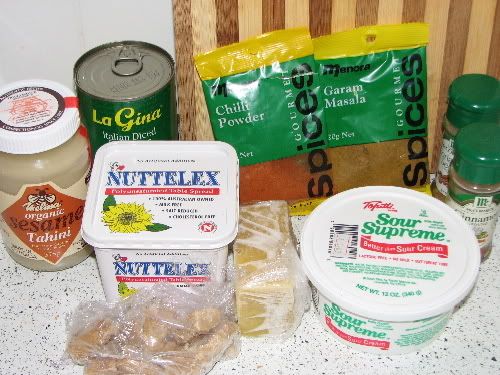 Method
Heat a large deep frying pan and melt the Nuttelex until it is liquid. Throw in the onions and the cinnamon to the pan and fry lightly. When the onions are soft stir in the garlic. Now it's spice time!! Cooking the spices like this releases their flavours, and also reduces the powdery taste/feel you can sometimes get in the final product. So, add the ginger, garam masala, turmeric, chili and coriander, and sauté until it's all amalgamated and smells insanely good.
Add the chicken or tofu, and stir constantly to coat with the spice mix. Pour in the tahini and tomato paste, mix through thoroughly. Add the tomatoes and 1/2 cup of water, and make sure everything is well combined.
Cover and simmer for about 20 to 30 minutes - you may need to add some more water as it cooks down. The resulting sauce should be nice and thick. Take it off the heat, and stir through the sour cream, which will lighten the sauce's colour and flavour. You can also use soy milk here, but you do need some sort of creaminess right at the end.
Serve with basmati rice (the pilaf recipe in the next post is a great accompaniment!!).