Mmmmm pasta salad...
I love pasta salad. I love pasta (say hello to those delicious carbs, people!!), and I love mixing up the different ways that I can serve it.
Now, I'm not over-fond of creamy/mayonnaise-y pasta salads. I prefer oil and vinegar dressed pasta salads. And I usually serve my pasta salad warm, though (as I confirmed again today at lunch with my leftovers!) it does taste great served cold.
You can use any sort of pasta you like for this, but I like to use spirals or penne. This gives an idea of the size of the rest of the ingredients, and the ridges in the penne/spiral grasp the dressing really well.
The following is my standard base for pasta salad - I like to add seasonal green things, such as sliced avocado, torn rocket, basil or baby spinach, just before serving.
And sometimes, as in this case, I'll add a "protein" side to the dish. You don't really need it, as the pasta salad is very filling, but if it's cold, or you haven't had your protein intake for the day, it can be a good idea.
Standard Pasta Salad (with side o' soss)
Ingredients

Pasta Salad
about 150g dry Pasta (spirals or penne)
Garlic to taste, thinly sliced
Shallots to taste, thinly sliced
about a cup of mushrooms, cut into sixths (an old boyfriend of mine, a chef, taught me a great style of chopping mushrooms. I love doing it, because it looks all fancy pants. I'll post the actual style in a separate post)
about a cup of baby tomatoes, sliced into sixths
about 1/2 a cup of sundried tomatoes, sliced fairly thinly
about 1/2 to 3/4 cup pitted kalamata olives, sliced in half
Exciting green things (as explained above) - in this instance I had a bunch of fresh asparagus, cut into lengths matching the pasta. If using leafy green things, about a cup to a cup and a half. If using avocado, as much as you like, and can afford, sliced.
Olive oil (to taste)
Red Wine or Balsamic vinegar (to taste)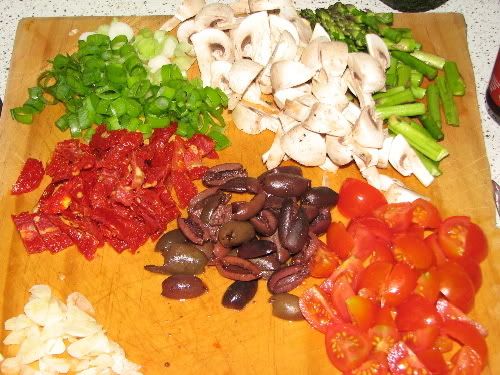 Marinated Soss
1 packet
Australian Eatwell
Tomato, Onion and Basil vegetarian sausages, sliced thickly (I like to cut them on the diagonal)
about 1 heaped tablespoon of spicy salsa or tomato relish
about 1 tablespoon of tomato paste
about 1/2 to 1 tablespoon olive oil
about 1/2 to 1 tablespoon lemon juice
about 2 teaspoons of fresh herbs
Method
Marinated Soss
Preheat the oven to about 160 degrees celcius.
Combine everything bar the sausages, and stir well.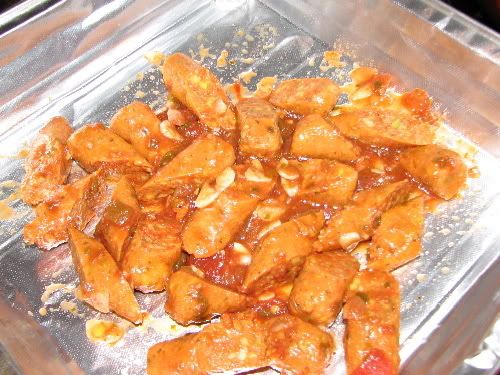 Pour over the sausages, and toss to cover. Pour into a lightly greased baking dish, and bake until cooked through and browning.
Pasta Salad
Put a big pot of salted water on to boil. When boiling, cook the pasta.
Drain the pasta, and put the pot back onto a low to medium heat (the pot will still be quite hot from cooking the pasta). Pour in a dash of olive oil, and throw in the garlic and shallots. Stir quickly, and add the sun dried tomatoes. You don't want to brown the garlic and shallots, so if the oil is getting too hot, turn down the heat.
Thrown in the mushrooms (they'll soak up some of the now-excitingly-flavoured oil) and olives. Stir quickly, and then throw in the fresh tomatoes. If using asparagus, pop it in at this point, and toss around quickly. Pour the pasta back into the pot, and toss so that the pasta is well mixed with the veges. Turn off the heat, and pour in olive oil and vinegar to taste (this dresses the salad), and stir well.
If using rocket/basil/spinach or avocado, throw in at this point, and stir through gently and well. The heat from the pasta should wilt the green leaves gently, and the avocado will break apart a little to coat the pasta, and add creaminess to the salad.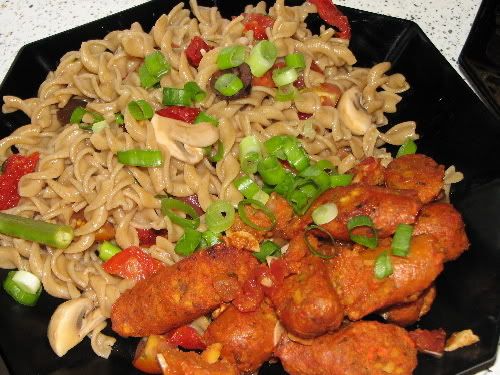 Serve with a side of the marinated soss, and share and enjoy!