Marinated Tofu Salad
I'm trying to up my protein and green leafy vegetables intake, and have found myself trying to make wacky versions of mayonnaise-y chicken/egg/tuna salads with marinated tofu recently.
I've made an insanely successful "Chicken" Caesar Salad, using the great mayonnaise recipe from the
Blossoming Lotus
' recipe book. The only thing I'd say about that recipe - it's really really rich, so I'd be careful how much you consume!!
When I'm being lazy, though, I don't make so much with the effort. The following recipe involved the least amount of effort for the maximum return of tastiness ;-)
Marinated Tofu "Chicken" Salad
Tofu Marinade Ingredients
extra firm tofu, frozen, thawed, pressed and torn into chunks
about a tablespoon of nutritional yeast
about 1/3 cup lemon juice
about 1/3 cup vinegar
about 2 tablespoons of olive oil
dash of hot sauce (optional)
Creamy Dressing Ingredients
about 1/3 to 1/2 cup of
Tofutti
Better than Cream Cheese
lemon juice/vinegar to taste
about 1 teaspoon of seeded mustard
3 gherkins, chopped
1/2 to 1 tablespoon capers, minced
1 shallot, chopped (both white and green bits!)
Cos lettuce, torn
Method
Marinated Tofu
Whisk the tofu marinade ingredients together (that's everything bar the tofu). Pour over the tofu chunks, and toss to cover. Let marinade in the fridge, tossing occasionally, for at least 1/2 an hour.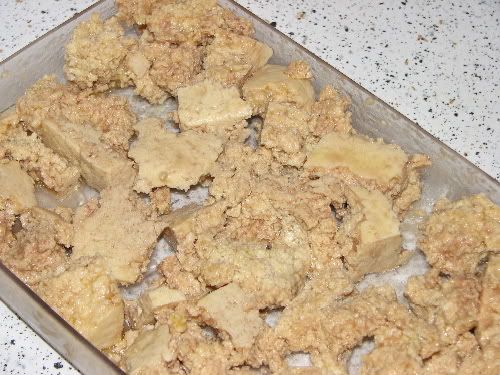 Heat a non stick frying pan over a medium high heat, and throw the tofu in. Cook, stirring fairly vigourously, until the tofu is golden brown. Take off the heat and set to one side to cool.
Creamy Dressing
Whisk the Better than Cream Cheese, the seeded mustard, and the lemon juice/vinegar together - the more acid you add, the thinner the dressing will become. I like my dressing really lemony, but that's not to everyone's taste!! Add the gherkins, shallots and capers to the mix, and stir through until combined.
Pile heaps of shredded cos lettuce into a bowl, top with the marinated tofu chunks and the dressing.
Grab a big glass of water or some citrussy juice to alleviate the creaminess of the dressing, and share and enjoy!!