Decadence is Avocado Pasta Sauce
Years ago, when I was vegetarian and I lived in the Blue Mountains, a friend of mine who is a great and passionate cook made me the most incredibly decadently rich pasta meal I think I've ever had. The integral ingredients were ripe avocado and lashings of parmesan cheese. It was an intense taste and texture that I have yearned for more than once over the intervening time...
A couple of months ago I had a glut of avocados, and a can of eggplant puree, and some nutritional yeast kicking about and I thought of that taste and texture and gave it a bash. The sharpness that the parmesan brought wasn't there, but my god it was good.
I recently bought a number of avocados that have all ripened at the same time, so tonight I made the dish again - a new iteration! - and hereby present the recipe as part of VeganMoFo. The main trick here is not to cook the avocado - cooked avocado has a bitter fatty taste - but to slightly warm the avocado sauce and allow the pasta to cool a little before tossing it through the sauce. I think that you could play with this recipe as long as you keep the main experience - silky smooth ripe avocado, creamy tahini or baba ganoush, smoky back-flavour, and the tartness of chilli and lemon.
Also, not the sexiest picture, but trust me that it tastes astonishing and is very sexy to eat!!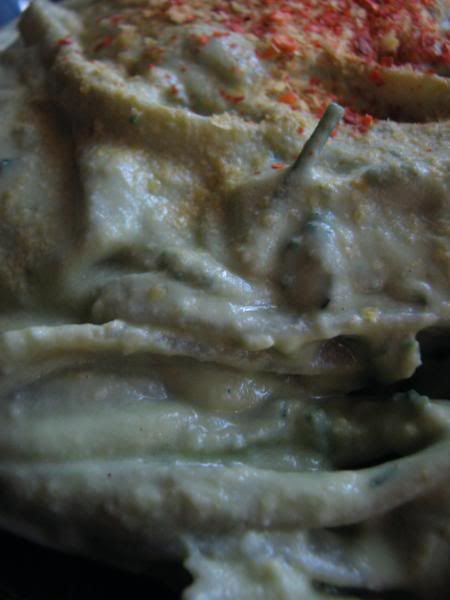 Serves 4
Ingredients
3 very ripe avocadoes
1/2 cup tahini
1/3 cup nutritional yeast
4 cloves garlic
1 bunch chives
1/2 cup lemon juice
1/2 tablespoon hot sauce or 1/2 teaspoon chilli flakes
1/2 teaspoon umesu
1/2 teaspoon smoked paprika
spinach fettucine
Method
Cook the fettucine in salted boiling water.
Mince the garlic and chives, and put into a bowl with the avocado flesh. Mash well until as smooth as possible. Add the rest of the ingredients and continue mashing until very smooth.
When the pasta is almost ready, divide the avocado mixture into 4 large serving bowls, and add a couple of tablespoons of the hot pasta water to each of the bowls and mix through well.
Drain the pasta, divide into 4 portions, and allow to cool for a minute. Add to the avocado mixture in the bowls and toss through well.
Top with nutritional yeast and chilli flakes.
This will be a warm, not hot, dish. You can also skip the step of adding the hot water to the avocado completely, and cool the pasta completely, and serve as a cold pasta dish.
As we're coming into avocado season, I urge you to give this lush and rich dish a try!!