I love it when a plan comes together
Ever since I started this new diet thing, I've been noodling about with a macncheez replacement recipe. I started off with an idea lifted from Veganomicon's Mac Daddy, which uses a cheez sauce made from stock and nooch, and adds crumbled and flavoured firm tofu to the sauce and pasta to provide body and depth.
Since I wanted to use firm tofu as the centre of the casserole, I couldn't use white beans in the sauce to thicken it, so decided on cauliflower as a nice thickening agent.
Below is the tasty result of my random trains of thought....
Cheezy Tofu & Cauliflower Bake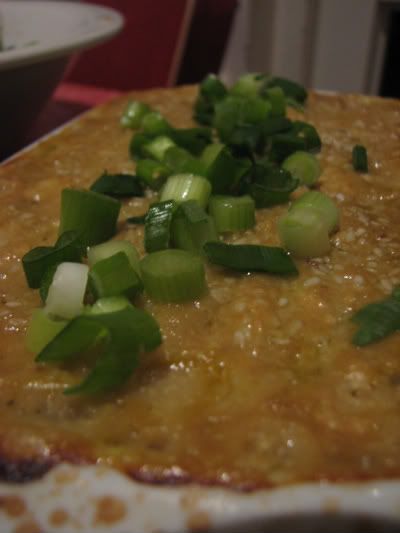 Ingredients
Flavoured Tofu
150g firm tofu
1 tablespoon garlic powder
2 teaspoons olive oil
1 tablespoon nutritional yeast
1 teaspoon Braggs
2 teaspoon hot sauce
1/4 teaspoon salt
Cheezy Cauliflower Sauce
170g cauliflower
1 vegetable stock cube
1 1/2 cups water
1/4 cup lemon juice
1 teaspoon Braggs
1/3 cup nutritional yeast
1 teaspoon mixed savoury herbs (sage, rosemary, thyme)

1 teaspoon olive oil

Topping
20g sesame seeds
1 teaspoon olive oil
Method
Preheat the oven to 190 degrees Celcius.
Flavoured Tofu
Crumble the tofu to a mixture of textures - small bits, larger bits, and all bits in between. Add the rest of the ingredients and mix well. Set to one side.
Cheezy Cauliflower Sauce
Steam the cauliflower until tender. Put the cauliflower, crumbled stock cube, water and lemon juice into a medium saucepan over a medium-high heat, and simmer, covered, until the cauliflower is falling apart. Take off the heat and cool for five minutes. Whizz until smooth and thick with a hand blender.
Place back on the heat and add the rest of the ingredients, mix well. Simmer until thickened, about 2 minutes.
Layer the flavoured tofu and cheezy cauliflower sauce in a small casserole dish. Sprinkle the sesame seeds over the top and drizzle with the olive oil.
Bake until bubbly and the top has crisped a little, about 15 minutes. Allow to cool for 5 minutes before serving.
I ate this with a green & mushroom salad, tasty good times.