Spicy Red Lentil Soup
This? This was freaking awesome. I love love love red lentil soup, ever since I had the most delicious version I had ever tasted about 10 years ago, on an icy winter's day in Katoomba. My boyfriend at the time was a chef, and I got him to deconstruct the flavours and ingredients and started making red lentil soup obsessively. I don't think I've made it for at least two years, but after tonight's effort, I think I'm obsessed again!!
The only problem I had with this was figuring out how much dried red lentils make up 170g cooked red lentils. I think I overestimated this time and have adjusted the recipe accordingly.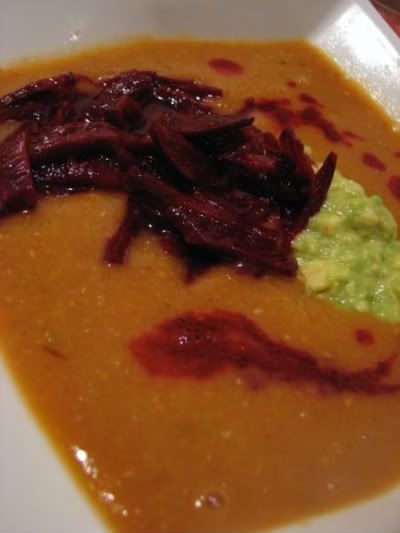 Ingredients
70g dried red lentils
3 cloves garlic
1 pickled chilli
1 teaspoon chipotle chilli
1/2 teaspoon paprika
2 teaspoons coriander
1 teaspoon cumin
170g chopped canned tomatoes
1/2 stock cube
2 cups water (plus more as required)
1 tablespoon olive oil
Method
Mince the garlic and chillies together. Heat the olive oil in a medium saucepan over a medium heat. Saute the garlic and chilli for a minute, add the red lentils and mix well. Add the dry spices and cook off. Pour in the tomatoes and stock cube and mix well. Add the 2 cups of water, mix, and simmer until the lentils are softened and cooked. If the mixture gets too dry, add more water as required.
Take the soup off the heat, cool for 5 minutes, and puree until smooth. Put back onto the heat for 5 minutes, stirring constantly.
I served this with guacamole and fresh shredded beetroot that I dressed with lemon juice and flaxseed oil - the juices from the beetroot made a great drizzle for the soup!!
I'm looking forward to making this tomorrow night and beyond!!