Sunday March 15, 2009
Aaaand a delay occurred. This was mostly due to my having a rampaging social life this week, which was fun but did put a dent in my raw life and my blogging.
The missing meals:
Thursday March 12, 2009
- green smoothie; leftover coleslaw, rocket & spinach salad with walnuts & dressing, nashi pear; and takeaway from Green Palace (had a meeting with Charles, who runs naked espresso, that ran into my standard dinner time).
Friday March 13, 2009
- this was crazy carbs day. Raisin toast with peanut butter; giant salad & roasted vegetable roll; and dinner at a Japanese restaurant called Juju's for my friend Neibi's birthday.
Saturday March 14, 2009
- breakfast at naked espresso; lunch was rice paper rolls & chilli salad from Green Palace; and dinner was mall food - Tex Mex burrito - with my friend Phil, in between bands at the
Monster Session
gig at Manning Bar. Bands of my youth, there was much much dancing, pogoing, shimmying and feeling a little bit like I was at a school reunion.
Today was a lovely day, with breakfast at naked espresso (again, yes) followed by a second viewing of Watchmen with my friend Luke. After the movie, we popped over to Iku and I had a burger and a surprise blueberry muffin while we geeked out about the movie. If anyone's interested in going to see Watchmen on the big screen and wants company, I am so into seeing it again (and again, and again)!
I bought a new kitchen toy for making zucchini noodles which unfortunately was crap and a waste of $20. I should have just coughed up the cash for the mandolin. *sigh* But I was still happy to make the zucchini noodles the old fashioned way, with a sharp knife, some patience and a willingness to eat slightly thicker noodles. I was a bit wary of eating raw zucchini, so after I sliced it up I tossed the noodles in the juice of half a lemon and let them sit whilst I made the sauce.
I wanted to incorporate protein and creaminess into the tomato sauce, and ended up making a pesto-like thick sauce which was incredibly tasty (though a bit unattractive to look at).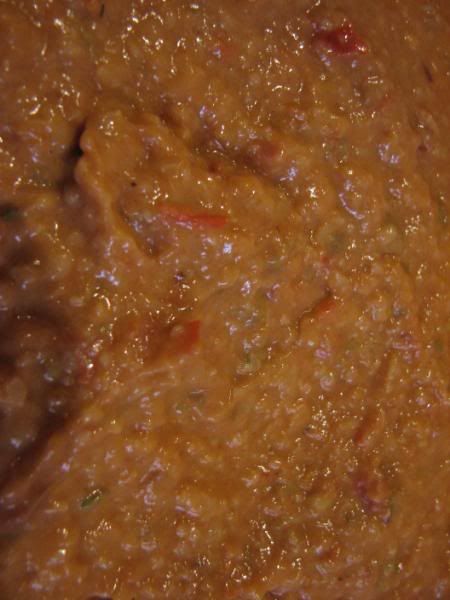 Tomato-Pesto Sauce
2 cloves garlic, roughly chopped
1 large chilli, roughly chopped
1/2 cup slivered almonds
1 tablespoon capers
1 small avocado, roughly chopped
1/3 cup sundried tomatoes, roughly chopped
2 tablespoons flaxseed oil
4 small tomatoes, roughly chopped
1 tablespoon tomato paste
2 teaspoons fresh lemon thyme
2 tablespoons lemon juice
2 teaspoons Braggs
Method
In a food processor, grind together the garlic, chilli, capers and almonds until they are broken down and combined. Add the rest of the ingredients, and process until thick and smooth.
I poured this into the bowl with the zucchini noodles and lemon juice, and mixed it all together and left it for another 15 minutes until serving.
I topped this with nooch for added ... noochiness...
I was really happy with this whole recipe, and am really glad that the zucchini noodles were so tasty!!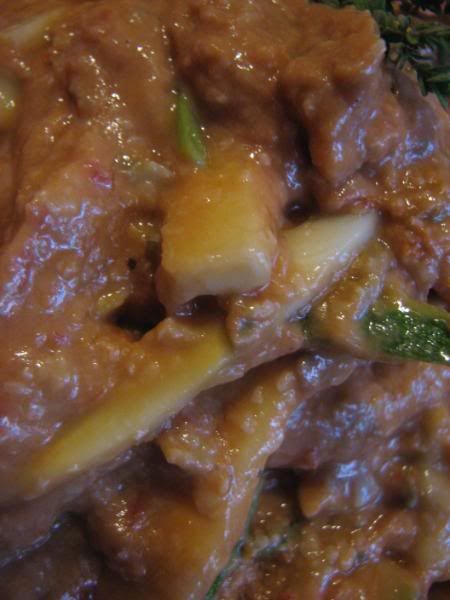 I got some red chard today, am looking forward to trying it in a green smoothie tomorrow!