Thursday March 5, 2009
Well, today was a grumpy day of not enjoyable experiences at work. Thankfully, my experience in the kitchen making dinner was definitely enjoyable and the outcome was my favourite pseudo-raw meal thus far this week!!
Tonight I made nori rolls, based upon a recipe in the Vegan World Fusion Cuisine cookbook from Blossoming Lotus. Their recipe is titled Carpe Diem Carrot Almond Pate Nori Rolls. And here's a sexy picture of my version:
As always, I faffed about with the recipe and I'm glad I did, because this was ta-ay-sty!!
ZB's Almond-Carrot Nori Good Time Rolls
Carrot-Almond Pate
Ingredients
1 cup almonds (soaked overnight)
1 cup carrots, chopped
2 tablespoons water
2 tablespoons lemon juice
1.5 inch piece ginger, minced
2 teaspoons tamari
1 teaspoon hot pepper sauce
1 teaspoon umesu
1 tablespoon sweet chilli sauce
2 tablespoons nutritional yeast
nori sheets (about 6, depending on how much pate you use)
1 avocado, sliced
1 cucumber, sliced
2 spring onions, sliced lengthways
marinated tofu, sliced in lengths
sprouts
Method
Carrot-Almond Pate
Throw all of the ingredients into a food processor, and process until as smooth as possible. Mine was still a little grainy, but that gave the "rice" feeling when eating the roll, so I quite liked that.
Making a nori roll
Lay the nori sheet flat on a dry surface. Spread about 1/3 to 1/2 cup of the pate onto 2/3 of the sheet. Place the avocado, cucumber, spring onions, tofu and sprouts down the centre of the pate. Carefully roll from the filled end of the sheet. Moisten the unfilled 1/3 of the sheet and seal the roll.
Let the rolls sit for about 15 minutes. This lets the nori sheet adhere and soften enough to be easily sliceable.
Slice and consume!! I made a simple dipping sauce: equal amounts of tamari and Braggs, a splash of Worcestershire sauce, a splash of apple cider vinegar, one large (not too hot) sliced chilli, and a sprinkling of sesame.
NOM!!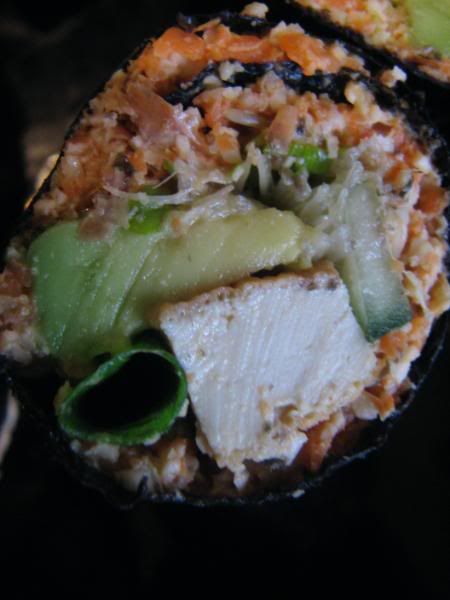 I know that I'm going to make this again, and often. I love nori rolls, but I've always found them too heavy. These ones are definitely not heavy, and they are so very very tasty and more-ish!! I recommend giving them a try!