Interview and Review Roundup
Just a quick post with some links to interviews I've done in support of Vegan Indulgence, and reviews of said book. It's been an interesting ride, with mostly positive responses, for which I am greatly thankful. Putting recipes on a blog is scary enough, putting out a book is terrifying and incredibly rewarding.
A scan of the review from Vegan Voice - I was really happy to be reviewed (predominantly positively) in this magazine, which I have enjoyed for years.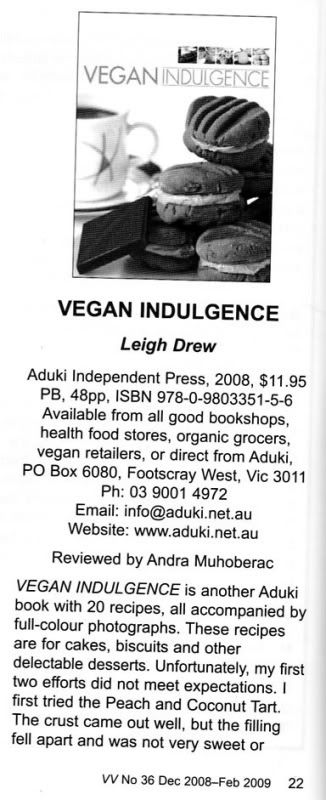 I recently did a wide ranging, very fun interview with abolitionist-online, and you can find it online
now
!
A wonderful review from
Veg World
, which I have been meaning to post since it came out in August, and which humbles me with its' passionate praise.
The juggernaut has slowed, and it's been nothing but a joy. I hope that everyone who has bought my book has found at least one recipe that they enjoy - hopefully more!!