Laksa fun
Happy New Year, everyone! I hope everyone had a marvellous NYE. I spent it in a fabulous Japanese restaurant (with only one non-vegan hiccup, huzzah!) eating wonderful food and drinking
chuhai
and having a great time with two of my closest friends. Followed by really good champagne, fireworks on the telly, and home by 1am.
My New Year's resolutions, such as they are (I try to give myself achievable goals, rather than fixed-in-stone "resolutions"), include getting back into the low GI lifestyle. To that end, I capped off a high protein day yesterday (scrambled tofu for breakfast, tofu/vegie patties on bread with lots o' salad for lunch) with a gorgeous vegetable heavy laksa, and lots of it!!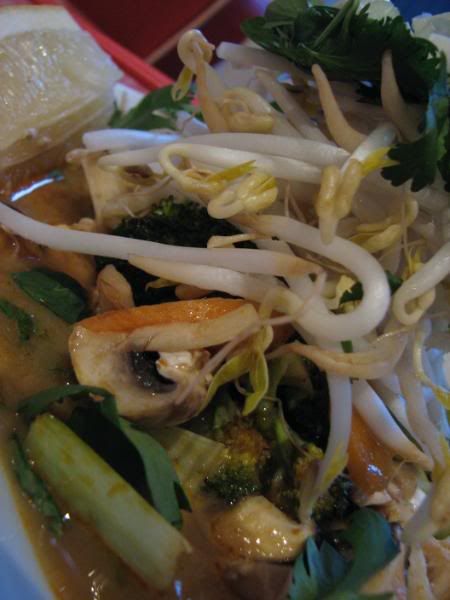 I don't really have a recipe, more a series of suggestions (as with my
scrambled tofu
).
As a base, I use the vegan tom yum paste that I buy in giant jars from
Vegan's Choice
- I have seen it in other Asian groceries. Vegan's Choice also carry a laksa paste, but I'm hooked on the tom yum paste - very sharp and lemony! I tend to add to the base paste - last night I added kecap manis, umesu and Braggs.
If you can't get the tom yum/laksa paste, there are some tinned curry pastes available in supermarkets that can be used.
Maesri's red curry paste
is accidentally vegan, and gives the hot flavour and red colour you want from a laksa. You need some tamarind paste to go with this red curry paste, to give the sharp and sour, and some palm or dark brown sugar.
Cook off the paste without oil (there's more than enough in it!) in a medium saucepan over a medium heat. When sizzling, add the extra flavours - tamarind, sugar, kecap manis etc - and cook off. Pour in a half/half mixture of coconut milk and water and simmer.
I love lots of vegies in my laksa. Last night I had: carrots; broccoli; button mushrooms; shiitake mushrooms; red capsicum; snowpeas; bok choy; bean sprouts; coriander; mint and spring onions.
I put the carrots, broccoli and both types of mushrooms in the simmering soup, and then put mung bean noodles in a bowl and covered with boiling water. When the noodles were ready - clear and expanded - I put them in the bottom of my serving bowl and then topped them with the red capsicum and bok choy, and ladled over the hot soup and vegetables. All of this goodness is then crowned with a handful of bean sprouts and the coriander, mint and spring onions, with lemon wedges on the side of the bowl for added citrus tang. (Excuse the over-expressive descriptions, I've been watching a
Nigella Lawson
marathon on Lifestyle Food. She does go on, doesn't she?)
So. Yes. Not so much a suggestion as a sort of recipe. I love laksa, and I'm always very happy and energised whenever I eat a big bowl that I've made.