Tasmania, casserole, chickpea salad
This is a quick photo post to share some fun stuff I've been doing recently.
I went to Tasmania a few weeks ago - not the easiest place to be a vegan, though Hobart does offer Sirens, an awesomely fancypants vegetarian and vegan restaurant (though check the wines before ordering - I ended up with one that had been fined with egg, milk and fish - boo!) The food is fabulous, though. If you're in Hobart, find it and eat there. Okay?
For those folks who have watched
Veronica Mars
, and know my obsession with
Logan Echolls
, they may know that Logan is often referred to as a "wooby". Hobart not only contains my new favourite restaurant, but also my new favourite lane (not that I have a current favourite lane...)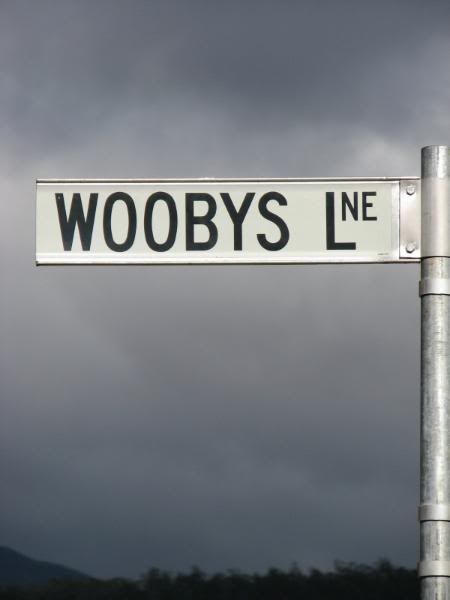 A town in the middle of Tasmania had this beautiful mill in the middle of a town that was so
Georgian
that I kept expecting
Jane Austen
to pop her head out of a doorway.
I recently found some blue corn chips, and had a great time making nachos with them. I did a leftovers nachos casserole (as you do), with the chips, rice, tofu, Not!BBQ pork, asparagus, shiitake, refried beans, kidney beans, Veganomicon cheez sauce...ummm...I'm sure there was more stuff in there, as there always is in leftovers casseroles! None of the inside shots (I ate it smothered in guacamole) were really that attractive, but I liked the contrast of colours in this pre-slicing shot.
When the weather was getting warmer (right now it's pissing down and cold and I have a cold and it's all about the "where the hell is Spring/Summer now?" questions - though I do prefer this weather, I'm just a little seasonally confused), I made this chickpea "tuna" salad, with chickpeas, walnuts, capers, pickled cucumber, soy mayo, lemon juice, mustard, seaweed flakes, chilli flakes...and I'm sure many more ingredients - I did just end up throwing things in there! Tasted great, though, and is a refreshing warm weather meal. Served on cos lettuce here...