When things go really really right....
I don't know what's worse - coming up with a recipe in your head that fails first time, or flies brilliantly first time. I've had experience with both, and I've generally found that the second (or third, or ninth) time I make something that flew brilliantly the first time, it goes kaflooey. Whereas with a recipe that fails first time, you've only got upwards to go.
Recently I decided that I wanted to make a quiche. I was trying to figure out what to make with the ginormous bunch of spinach that I've got in the fridge, and as I'd made spinach pie and spinach cannelloni recently, I really wanted a change.
I had a squizz around various sites, and tried to figure out what to put in a vegan quiche that would:
a) mimic the eggy flavour; and
b) set like a standard quiche
So, tofu it was. But of course.
To my surprise, and joy, the quiche turned out (if I do say so myself) quite fabulously. I have to say, I'm insanely proud of my quiche achievement. I would really really love to hear some feedback from anyone who attempts this...
Spinach, Olive and Semi Dried Tomato Quiche
Ingredients
Pastry
2 cups rye flour
1/3 cup nutritional yeast
2 tablespoons oil from semi dried tomatoes
1 to 2 tablespoons olive oil
1/2 cup water
1/2 cup finely chopped spinach
"Eggy Stuff"
2 x 250g packets soft tofu
1 x 250g packet silken tofu
1/2 to 1 cup soy milk
2 to 3 tablespoons vinegar
1/2 cup nutritional yeast
1/2 cup grated
Cheezly
Cheddar Cheese (this isn't a necessity, but I found it in my health food store on that day and just had to try it!!)
salt
pepper
Filling
1 small onion, sliced thinly
1/2 bunch spinach, stalks and leaves finely chopped
1/2 cup semi dried tomatoes, drained if in oil, chopped
1/2 cup kalamata olives, chopped
vinegar
olive oil
Method


Crust
Preheat the oven to 180 degrees celcius. Put the rye flour and nutritional yeast into a bowl, and evenly pour in the oils. Mix with your fingers until the oil is completely mixed in, and the flour has a crumbly consistency. When you press some between your fingers, it should stay together after you've removed your fingers. Slowly add in the water - you will probably not need all of it - and mix into the flour (I use a bread knife and "cut" the water into the flour). Add the chopped spinach, and mix through thoroughly. Knead until the pastry is smooth and elastic.
Roll the pastry to about 1 to 2 cm thickness, press into a flan or springform pan, prick with a fork, and bake for about 15 to 20 minutes. Allow to cool.
Filling
Heat the olive oil in a frying pan over a medium heat, and add the onion. Fry until translucent, and add the spinach stalks. Fry for another couple of minutes, and add a splash of vinegar. This will assist in caramelising the onion. Fry until fragrant and slightly coloured (add a little more vinegar if you desire). Add the tomatoes and olives and toss with the onion/spinach stalks for a couple of minutes. Throw in half of the spinach leaves, and stir through until they start to wilt. Take the frying pan off the heat and add the second half of the spinach leaves, and stir through thoroughly. The spinach will continue to wilt a little due to the heat of the pan and the other ingredients. Set to one side.
Eggy stuff
Place all of the tofu into a food processor (seriously, a food processor is absolutely brilliant, and no kitchen should be without one. If you don't have one, you can do this section in a big bowl, with a sturdy fork, and some concerted mashing), and process until mixed together. Add the nutritional yeast and some of the vinegar (this adds to the "eggy" taste). Proces again until smooth - it will be quite thick. Add some soy milk to cut through the thickness, and sease with salt and pepper. If you're using the Cheezly product, add here. Process until really smooth. It should still be quite thick, so don't go too crazy with the soy milk and vinegar!!
Putting it all together
'kay, this is the fun part (I'm with
Jamie Oliver
- you should work food with your hands as much as possible!!) Throw half of the filling into the pastry crust, and then pour in half of the eggy stuff. Mix together with your hands. Repeat with the second half of the filling and eggy stuff. Gently shake the flan/springform pan to get an even top to the quiche, and top with grated Cheezly (if you've got it - again, not necessary).
Put into the oven, and bake for about 45 minutes to an hour. Check regularly, and turn a couple of times during the baking process. The quiche should be ready when it is cracking around the edges, and set in the middle.
Take it out of the oven, and let rest for a couple of minutes.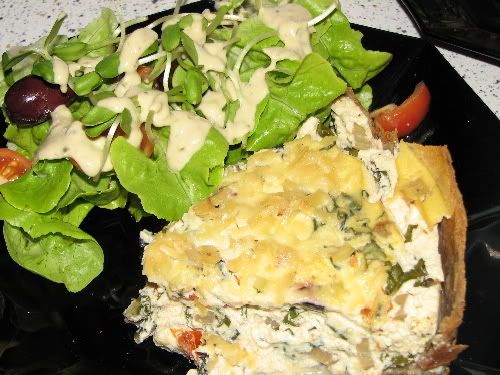 Slice, serve with salady goodness, and share and enjoy!!