Cooking adventures, quick picture heavy post...
And the baking craziness has been continuing, with incredibly not low GI but fun to make (and to eat!):
Chocolate Melting Moments with Mocha Filling
Passionfruit Melting Moments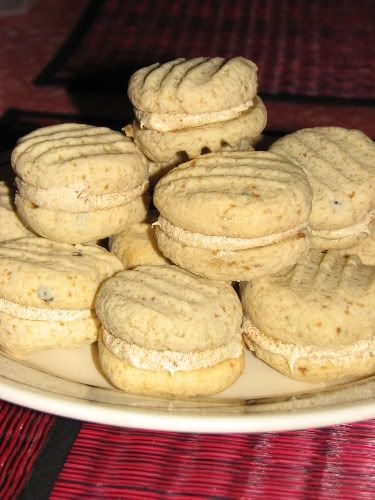 Double Chocolate Chip Macadamia Cookies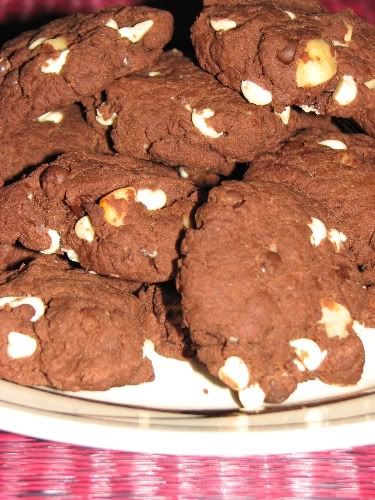 Really very good for you and hearty
Breakfast Muffins
Various grains, spelt/rye/wholemeal flower, spices, blackstrap molasses and fruit of choice
And moving slightly away from the baking, may I present
Experimental Amaranth Porridge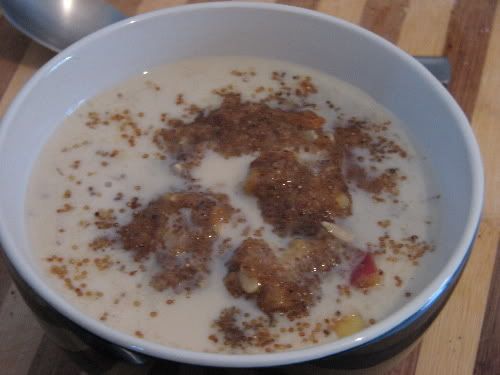 Oh so very hearty and filling!!
As summer approaches (vaguely), it's time to go crazy with the
Rice Paper Rolling
Fillings for this one included mint, bean vermicelli, pickled ginger, marinated tofu, carrot, cucumber...you can do cooled baked pumpkin, shiitake mushrooms, lettuce...If it can be wrapped, it can be rolled!!
And last, but not least, an actual recipe!!
Baked Chickpea Stuffed Mushrooms
Ingredients
1 portobello mushroom per person
2 cans chickpeas
2 tablespoons Braggs Liquid Aminos
1 to 2 cloves of garlic, finely minced
3 spring onions, finely chopped
1 tablespoon nutritional yeast
½ cup finely chopped parsley
1 cup finely sliced rocket
½ cup finely sliced oil free sundried tomatoes
Juice of one lemon
½ teaspoon cracked pepper
Garlic croutons
5 slices of day old sourdough
½ to 1 tablespoon olive oil
2 cloves of garlic, finely minced
Method
Preheat the oven to 190 degrees celcius.
Garlic croutons
Cut the slices of sourdough into 1cm square cubes. Heat a non-stick pan over a medium heat. Add half of the olive oil and heat. Toss in the cubes of bread and fry until they begin to get crisp and golden. Add the garlic and the rest of the olive oil. Fry for about another minute until both the bread and garlic is golden. Remove from heat and cool.
Roughly chop the garlic croutons when cooled, to form big breadcrumbs.
Filling
Pour the rinsed chickpeas into a large bowl and mash roughly – leave some big bits for texture. Add the garlic, spring onion, nutritional yeast, parsley, rocket, sundried tomatoes, half of the chopped garlic croutons and the lemon juice. Mix together with the chickpeas until chunkily smooth.
Putting it all together
Heat olive oil in a non stick pan over a medium heat, or heat a bbq grill and grease it with olive oil. Put the mushrooms onto the grill/pan and sear for a couple of minutes, or until the base is golden.
Remove from the heat and press about 2 to 3 tablespoons of the filling into each mushroom, mounding slightly. Sprinkle the remaining garlic croutons on top of each of the mushrooms. Grease a baking tray and place the mushrooms onto the baking tray and bake until the top is golden and the mushrooms are softened.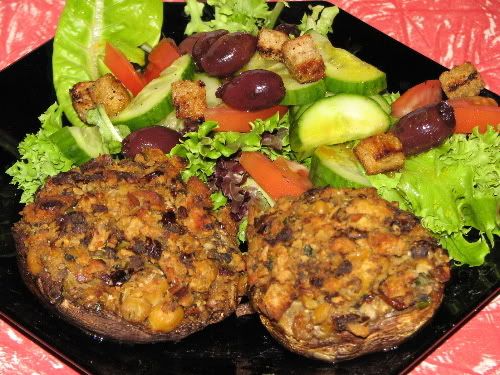 Serve with a big salad, and maybe some chunky spicy tomato sauce!! Share with good friends and enjoy the sunshine!