Parmigiana - Quick and Easy Style!
I had a yearning for either Tempeh Reuben or Parmigiana for dinner today - don't know why, it's been 800 million degrees and I really should just be yearning for salad...it's probably the new exercise regime (personal training 3 times a week, pilates 2 times a week), what with muscles screaming out for more protein and carbs!
Anyhoo, since I had some chickpea-but-actually-black-eyed-beans cutlets that I had made earlier and frozen defrosting in the fridge, and no sauerkraut, I thought I'd got the parmigiana route.
And it was good. And it was quick.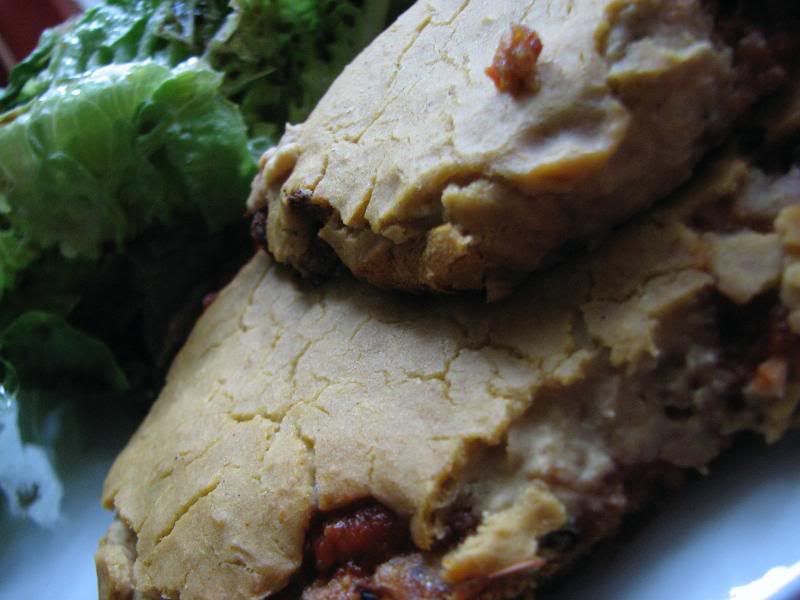 As mentioned above, chickpea-but-actually-black-eyed-beans cutlets (from Veganomicon) had been made in bulk a couple of weeks ago, and frozen in one serve lots. They had been defrosted overnight, and then put into a baking dish with a little olive oil and baked at 200 degrees celcius. I bought some vegan organic plain pasta sauce, which I spooned over the cutlets when they had cooked for about 40 minutes (turned once) and are firm and crispy. The cheez sauce I made from pinto beans, lots of nooch, garlic powder, onion powder, lemon juice, oat milk and seasoning salt - put 'em all in a bowl and whizzed the heck out of them with a hand blender. That went on top of the cutlets at the same time as the pasta sauce.
All back into the oven for another 20 minutes or so. Then stacked on a plate with baby cos that's been tossed with olive oil and balsamic vinegar. Then nomnomnomed....
Megasupercompletecloseup!