Sandwichy Goodness, Risoni Risotto, Scrumptious Salad
More photos and lack of recipes...Many greens have been my pleasure to consume recently!
Sandwich of Doom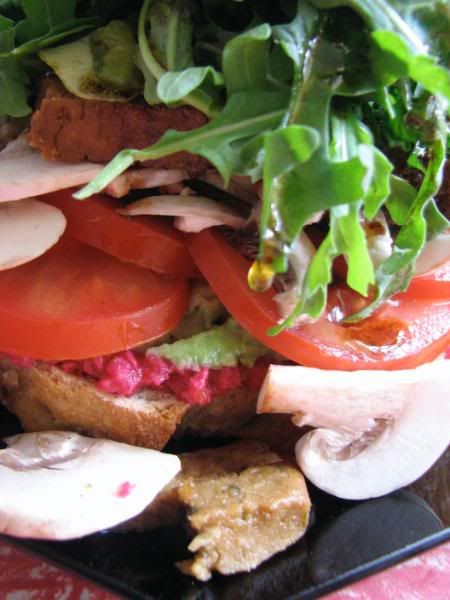 Sunflower seed sourdough loaf, veggie burger (really not very good, unfortunately), beetroot and wasabi dip, squooshed avocado, mushroom, tomato, spinach, rocket and a dressing made of linseed oil and balsamic vinegar. I had this sandwich three lunches in a row, and kind of wish I had one now. Ridiculously tastingly good.
The best way for me to eat risotto these days. Risoni gives the bite and creaminess of traditional risotto, and allows me to indulge in one of my favourite foods.
This one was a mushroom, lemon and greens risotto. Lemon zest, leek and garlic sauteed in olive oil, with fresh shiitake and button mushrooms, add the risoni and cook with vege stock as per standard risotto. Lemon juice and roughly chopped greens added just before serving. Yum!
I made red kidney bean curry (m'eh) and spiced rice for dinner last night. I had some rice left over, and came up with this ridiculously sexy and tasty post-workout uber-salad.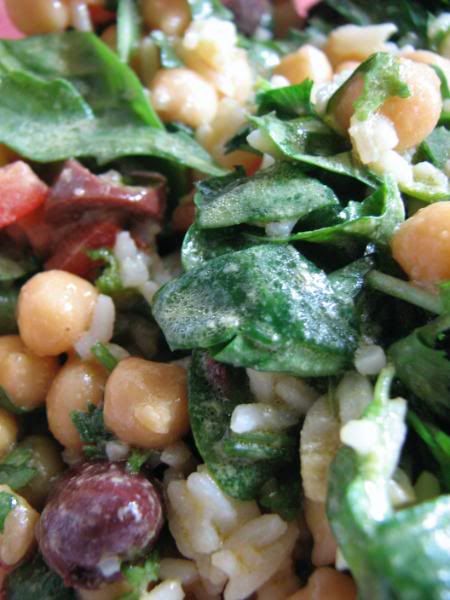 Rice, chickpeas, diced tomato, kalamata olives, coriander, mint, rocket and spinach, dressed with a dressing of flaxseed oil, lemon juice, Braggs, umesu and nutritional yeast. ZEDOMG!!1!1 So incredibly tasty and good. Highly recommended that you give it a go.
I'm getting into the summer style of eating again, which is good. Lots of vegies, lots of lemon juice (well, that's not anything new, I love my lemon juice!), lots of legumes. Food is good.