Did I mention that I love Tex Mex?
Going back through my blog archives, as I do occasionally, I realised how often I blog about Tex Mex. And you know what? I'm good with that! Simple ingredients, ridiculously brilliant tastes, and so many different dishes. I love sharing Tex Mex with friends - I think it's a great dinner party experience - and so last night was well chuffed to have some of my favourite folks over for dinner...
Left and then clockwise: Stephen, Neibi, Phil and finally my mum. Neibi and my mum are holding up the home made blue corn tortillas that we all made together.
Did I say blue corn tortillas? Check it out: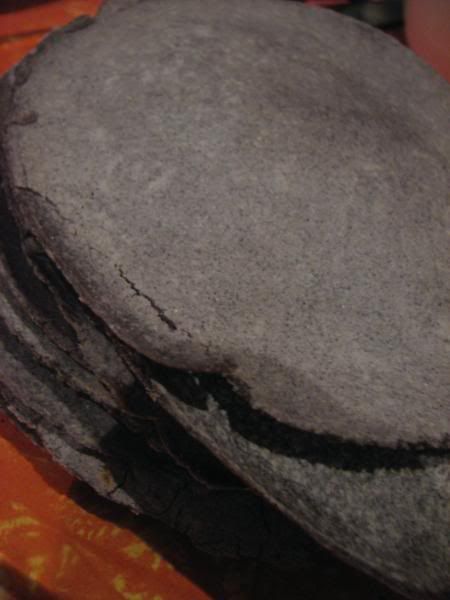 I recently got three different types of
masa harina
(white, yellow and blue) from a great Aussie Tex Mex online delivery service,
Fireworks Foods
(the website is well dodgy, but they've got great products and great service!), as well as a
tortilla press
. So last night I made tortilla dough, my mum offered advice when the dough turned out waaaaaay too sticky, and Neibi exerted her personality on the tortilla press. After a few false starts, all went well, and we got about 14 great little tortillas out onto the frypan and then into a warm oven. Tortilla dough is pretty much equal amounts of masa harina to warm water - and it's amazing, the dough retains heat for so long!!
I offered a whole bunch o' dishes to go with the tortillas (which were, let's face it, the main reason for the dinner party):
Starting in the middle on the left, we've got onions and mushrooms fried with cumin; refried beans; great globs of guacamole; rockmelon salsa (rockmelon, chilli, spring onion, lemon juice, linseed oil); roasted beetroot and kidney beans stir fried with roasted garlic and chipotle; blue corn tortillas; pickled cactus; queso (cashews, corn flour, onion flakes, salt, chilli flakes, nutritional yeast) and finally salsa verde (tomatillos, garlic, chilli, lemon juice, coriander, vegetable stock). There was also a tomato salsa (tomatoes, olives, spring onion, chilli).
Way too much fun - but just enough food for the five of us, and for me to have leftovers for lunch! I gave Phil and Neibi a bottle of my salsa verde and I froze the remainders.
There was even a pseudo Mexican dessert. Chocolate icecream (from
Vice Cream
) with spiced cashews (cinnamon, cayenne pepper, salt and maple syrup) which I made in my awesome icecream maker. I'm practicing for Xmas - I think everyone's going to get icecream, I've got so many ideas for flavours!!
An awesome feast, and I'm never going to buy tortillas from the supermarket ever again!!