New Adventures with Vegetables!
Sometimes I get stuck in a rut, and food is pasta/fake meat/curry/pasta/repeat the same damn recipes all of the time, and you forget what fresh vegetables taste like, look like and what wonders they are to cook with.
That's why I'm always thankful to have a fortnightly delivery of fruit and vegetables from a home delivery organic company, because I get the "surprise" box, which generally has something in it that I've never cooked with before.
This fortnight's box had broccolini and baby carrots in it, which I'd never really thought of buying or using, but have become more interested in due to them turning up on almost every dish in the last series of Great British Menu!
So I decided to make a fancy pants-esque dinner last night, using some tofu-tempeh balls I'd made on the weekend, steaming the carrots and broccolini, and making a lemon cheezy sauce using leeks and Cheezly Edam. I also had a little bit of pasta with it.
The lemon cheezy sauce was everything I had wanted it to be!! Leeks, garlic, capers, flour, water from the boiling pasta, lemon juice, nooch, Cheezly Edam and some white pepper. So creamy and tart. Mmmmm....
Unfortunately I overcooked the carrots and broccolini a little, but it was the first time cooking with them, so I was pretty happy with the outcome. Plus the tofu-tempeh balls make everything good!
Tonight I continued the cooking-something-I've-never-cooked-before theme, and made the most amazingly vegetable laden dish of numminess!!
I had two baby bok choy from the box o' surprise veges, and snow peas, beans, and two types of capsicum. I made a tofu gyoza filling that my friend Jen taught me - extra firm tofu, shiitake mushrooms, garlic, spring onion, ginger, cabbage (well, some sauerkraut, to be completely honest), Braggs and cayenne pepper - and used that to stuff in between each of the leaves of the bok choy. Check it out pre-steaming:
I decided to steam the stuffed baby bok choy, and serve it on a bed of soba noodles and sweet and sour BBQNot!Pork and vegetables. I made a sauce from tomato sauce, maple syrup, Braggs, powdered ginger, fresh ginger, juice of two oranges, hot sauce, soaking liquid from the shiitake mushrooms and chilli flakes, simmered for 2o minutes and then thickened with cornflour.
I stir-fried the onion, beans, snow peas, red and green capsicum and mushrooms, adding defrosted gluten BBQNot!Pork at the last minute and then adding most of the sauce and letting it come to a bubble.
All served up, ready to be eaten: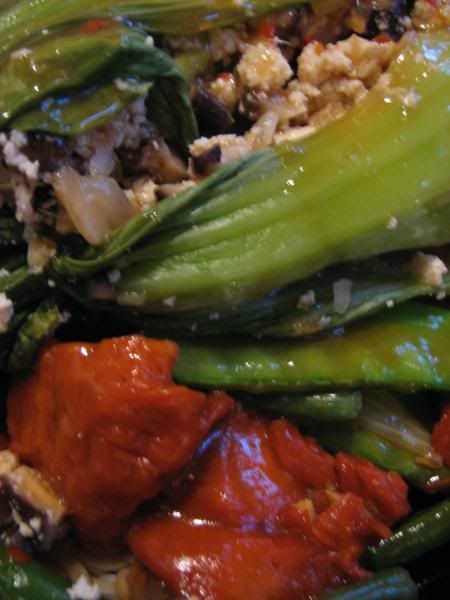 I'm really happy with this meal (or, more precisely, the two meals in one!), because it's the first time I've made a gorgeous sweet and sour sauce, and it's the first time I've stuffed bok choy - it's easier than it appears to be, though figuring out how to get rid of all of the grit needs to be done before I make this again!!
I've still got some veges in the crisper, and I'm looking forward to figuring out how to use them as scrummily as possible!!