Oh Tex Mex...
I love me some Tex Mex beans. I could eat Tex Mex beans pretty much every night, and I have to work hard not to!!
When I first became vegan, I thought I would not be able to have nachos again, because I thought of nachos as needing to be smothered in cheese and sour cream. I learned from a couple of friends of mine, both of whom had been vegan for years, that in fact the cheese and sour cream hide all of the beautiful flavours of beans, refried beans, tomatoes, spices, smokiness...*drools* Instead, they had a great range of sides to go with whatever Tex Mex dish they were serving - guacamole, salsa, sauces, lettuce, tomato, olives, mushrooms...
I have passed this wonderful knowledge onto my friends and students, and am continuing to refine my spicy beans mix every time I make it. Currently it involves garlic, cumin, coriander, smoked paprika, cayenne pepper, tinned chipotles in adobo sauce, kidney beans, tinned tomatoes and refried beans. It's great in enchiladas, burritos, and of course, smothered over corn chips as nachos...
This week's rendition of nachos included shredded Strong Cheddar Sheese, and was topped by a spicy savoury pineapple salsa and lots of guacamole.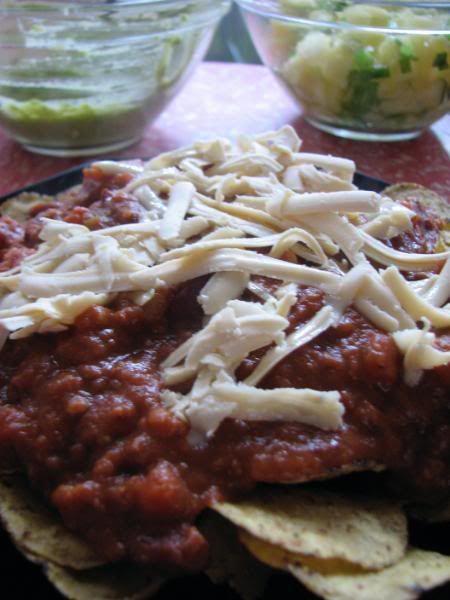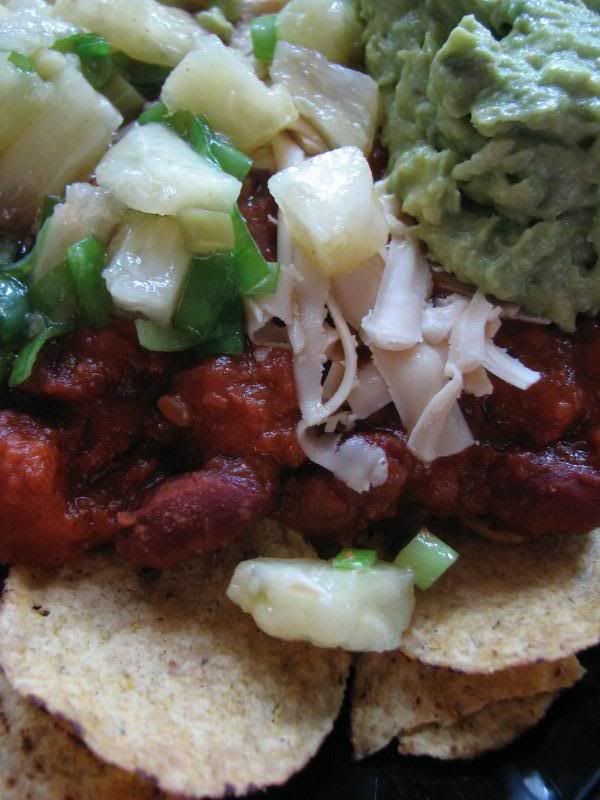 Pineapple Salsa
1/2 medium pineapple, cut into small chunks
2 spring onion tops, sliced thinly
2 pickled chillies, sliced thinly
2 tablespoons olive oil
1/2 to 1 teaspoon hot sauce
1/2 teaspoon sea salt
Toss the ingredients together (including any pineapple juice produced by cutting it up), and let sit for at least 15 minutes before serving. The salt will pull out liquid from the pineapple, so stir before serving.