So much Black Forest cake...
I spent Friday night making chocolate cakes, chocolate mousse, chocolate truffles, soaking cashews, packing various kitchen implements and generally panicking. And why? Because on Saturday I performed not one, but two, cooking demonstrations at the fifth annual
Under the Blue Moon Festival.
My day started at 6am, when I got up and got everything together for the day - I had a stall as well. Got dressed in my very much dominatrix lookin' outfit (at least that's what it seemed like by the end of the day, given some of the reactions!!), and headed out to set up the stall.
Froze my tits off for about three hours by myself, kept company only by these magnificent beasts!!
There was a horse drawn hearse that had come up from Melbourne to be part of the festival, arranged by the funeral services company TJ Andrews. Had a great time chatting to the horses and their cowboy handler.
Did my first demonstration...did I mention that it was monumentally bucketing down? I had an audience of about 10 huddled underneath a cover, and it was great fun! I made cashew creme (thank you
Mim
for your food processor!), and then constructed a Black Forest Cake with the chocolate cake, chocolate mousse, cashew creme and Morello cherries. Sliced it up and offered it up for free and suddenly had about double the number of folks lined up for the cake!! Rolled up some truffle balls and then haphazardly packed myself up.
Oh, I forgot to mention that my dress up for the demonstration was added to with the Waspie corset, which was fabulously comfortable to work in, which was a relief!! There's a goofy photo of me, relieved and happy to have finished that first demonstration,
here
. Thank you Emster Graphics - Emmy was lovely and friendly and liked the cake (which is always important!)
The second demonstration came after the sun had come out and the rain had stopped, and there was a fairly large group watching me - nerve wracking. I got a lot of support, though, and only a couple of silly questions ("Why are you vegan?" comes the voice. "Because it's fucking awesome" is my measured reply, and there's a huge laugh and whooping and applause from the watching audience. Fabulous!) Free cake tends to do that to people...
Packed up, went home, got changed, went out to dinner, went home at about 10pm and essentially slept for the last two days. Watched
The Good Life
(and that's a whole other post for this month) and woke up on Monday morning having dreamt the recipe for this: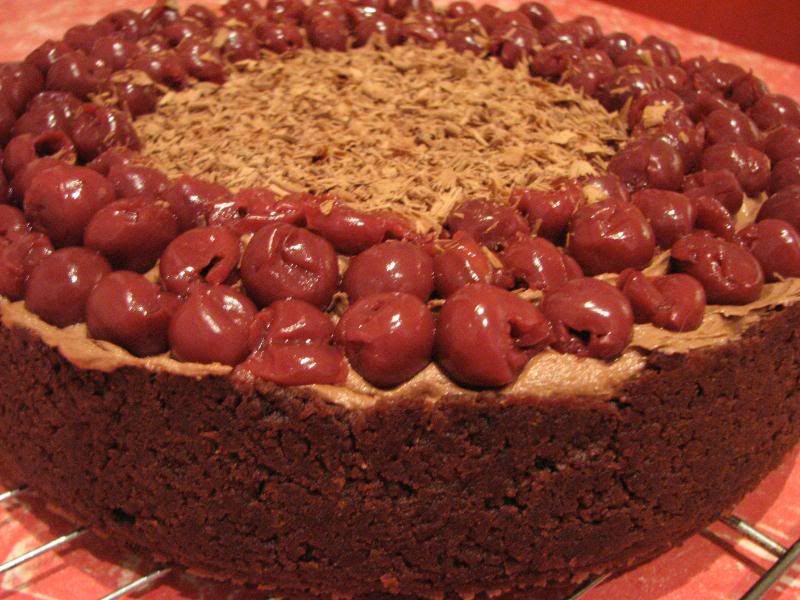 Black Forest Cheezcake
I had leftover cake tops that I'd cut off the cakes for the demonstration, extra soy cream cheese, cherry juice, chocolate...What else was I going to do with it? So the cake got ground up for the base, and the filling was cashews, soy cream cheese, custard powder, vanilla, sugar and cherry juice, topped with chocolate icing, cherries and chocolate curls. When I figure out what the recipe actually is, I'll post it!
Tonight I made empanadas for the first time ever, which I'm really happy with. I'll post photos later in the week.
What else?
Inside shot of the cheezcake:
A great scrambled tofu and
Vegan Dad
sausages, with big ole salad, that I had for lunch during my first week in the new house.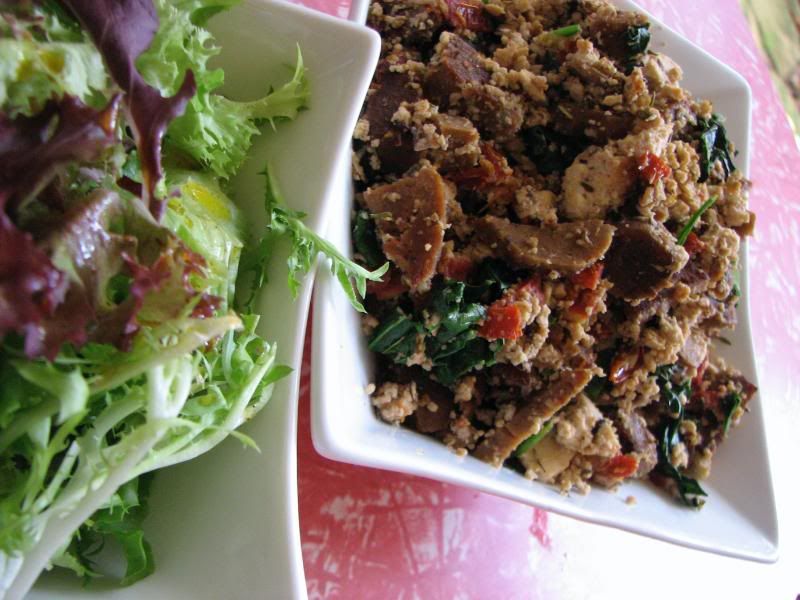 And finally - more horsies!!