Tex Mex Feast
No recipes, just some piccies...
I had a couple of friends over recently for a Tex Mex Feast, and many good food noms were had.
We started off with a Five Layer Dip: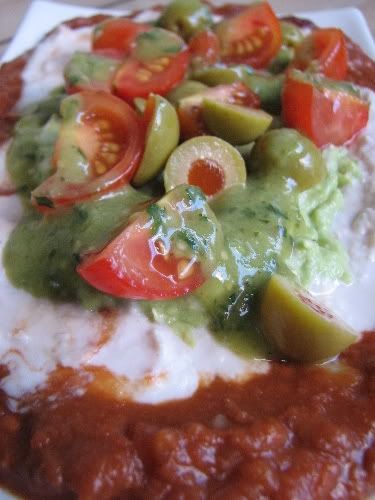 From the bottom:

Smoky
Tex Mex Beans
(I used chipotles for this one)
Cheezy Beany Sour Creme
- inspired by Joanna Stepaniak's
Gee Whiz Spread
, but using Tofutti Sour Creme instead of tahini, and no pimentos.
Guacamole
- mashed avocado and lemon, nummy...
Salsa Verde
- using the
recipe
from
theppk
, with canned tomatillos from
Fireworks Foods
Finally, just some chopped tomatoes and stuffed green olives.
Soup Course (yes, I had a soup course. I am a food geek of monumental proportions...)


Chilled Tomatillo, Avocado and Cucumber Soup, based upon this recipe (without the saffron ice - I just dumped a plain ice cube in the bottom of the bowl). Lovely, rich, creamy and filling, this tasted like a mix between guacamole and gazpacho. Highly recommended.
Main Course
I had made a vegan version of Puerco Pibil, using annatto paste and jackfruit, but found that I was allergic to something in the mix, and couldn't face cooking it or eating it, let alone taking a picture of it. I'm hoping that I'll be able to make it again some day and not feel so icky whilst doing it. My guests really enjoyed it, so that's good! I based my recipe upon this one, which is from Robert Rodriguez, which is the only reason I wanted to make this, because I loved how Johnny Depp's character in Once Upon a Time in Mexico had a Puerco Pibil fixation.
Yes, I am that easily influenced by mass media and popular culture (and pretty boys). It's a thing.
Anyhoo, the other part of the main course was Everyday Chipotle Tamales from Veganomicon. Awesomely good, though finding dried corn husks was not possible - I just used fresh ones and got one of my guests, who is very good with origami and such, to do the folding of the tamales! The photo is not of the best quality, but I was well chuffed with how they turned out, so I had to take a photo anyway!