Snags, Mash and Gravy with Salad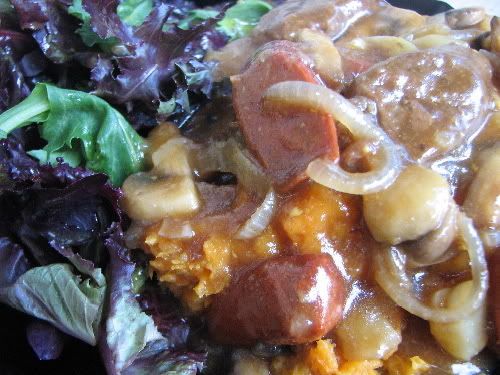 So, that was the mystery object….lovely vegan snags over sweet potato mash, with an onion and mushroom gravy, and a big ole salad.
Making the mash and cooking the snags are fairly self explanatory, but here's my favourite gravy base, that can be fiddled about with to create infinite variations…
Onion and Mushroom Gravy

Ingredients
2 medium onions
1 cup button mushrooms
1 tablespoon Nuttelex
1 ½ tablespoons flour (plain, wholemeal, corn, potato)
1 to 2 cups warm water
2 tablespoons vegan Worcestershire sauce
1 tablespoon barley miso
1 teaspoon mustard
½ teaspoon dried sage
¼ cup lemon juice
Method
Slice the onions into thin half moons. Slice the mushrooms into even pieces.
Over a medium heat, melt the Nuttelex in a frying pan. Add the onions and mushrooms and fry, stirring constantly, until the onion is softened and translucent. Sprinkle in the flour, and stir to coat the onions and mushrooms – it will become very sticky. Slowly add the water, ¼ cup at a time, and stir to initially form a paste. Then as you add more water, stir to get rid of any lumps.
Bring to a simmer, stir, and pour in the vegan Worcestershire sauce, miso and mustard, and combine thoroughly. Bring back to a simmer, and add the sage and lemon juice, and combine thoroughly.
When the gravy is bubbling and thickened, stir one final time and take off the heat.
Stir sliced cooked vegan sausages through the gravy, and serve over mashed sweet potato.