What does one do...
...with Not!Tuna in a packet?
I recently found, at
Vegan's Choice
, a frozen pack of "tuna". For some reason, I felt that I had to get it and find something to do with it.
But what?
I eventually settled on steaming it (I wish I'd taken a photo - it was a very weird oil covered pink frozen block to begin with) and then breaking it up into bite size bits, and making a pasta sauce with it.
And it was delicious! Not something I'd buy again on purpose, but something to keep in mind for future weird-meat-analogue food escapades...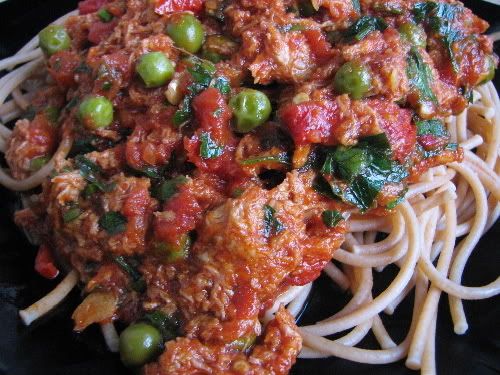 Chilli Not!Tuna and Pea Pasta Sauce
Makes between 2 and 4 servings (depending upon how hungry/greedy you are)
Ingredients
3 cloves garlic, minced
2 teaspoons chilli flakes (or 1 fresh birds eye chilli, minced)
1 packet Not!Tuna (or about 1 and 1/2 cups of meat analogue of choice), steamed and broken into bite size pieces
2 tablespoons tomato paste
1 can crushed tomatoes
1 cup frozen peas
1 to 2 tablespoons vegan Worcestershire sauce
1 to 2 tablespoons Braggs
juice of one lemon
1/2 cup flat leaf parsley, roughly chopped
olive oil
Method
Heat the olive oil in a frying pan over a medium heat, and fry the garlic and chilli flakes until fragrant. Add the Not!Tuna and toss to coat with the garlic and chilli. Mix in the tomato paste, and deglaze with the lemon juice, vegan Worcestershire sauce and Braggs. Mix together well.
Pour in the crushed tomatoes, and about half a can's worth of water. Combine, and leave to simmer over a medium low heat for about 15 minutes.
Put on your pasta of choice to cook. I used wholemeal spaghetti for this, and it was a lovely combination.
Add the peas, and simmer for another 10 to 15 minutes.
Take off the heat and stir through the parsley.
Drain pasta and place on plate. Spoon as much (or as little) sauce on top of the pasta as you want.
Optional: Sprinkle with some nutritional yeast and lemon zest before serving.