Millet Sushi
So I'm getting back onto the low GI bandwagon (and going to the gym three times a week, gah!), but I had the most ridiculous craving for sushi a couple of weekends ago. I had to have seaweed-y goodness stuffed with carbs and veges!
I'm currently favouring
millet
as my grain-to-replace-rice. I splurged on quinoa when I first discovered it, and though it is fabulous, I am really enjoying the soft yet chewy and a bit crunchy texture and the nutty flavour of millet.
So, I cooked some millet in a little too much stock, to make sure it would get soft and sticky, and then added some rice wine vinegar and mirin to it whilst it was still warm. Spread it out and let it cool. Next time I would probably work with it whilst it was warm. It does go hard fairly fast after cooling.
After cooking and flavouring the millet, the rest of the sushi was made in the usual way - except I didn't have a rolling mat, so improvised with some baking paper!! Worked out quite well, really...
Fillings were made: "fishy" tofu sticks (extra firm tofu marinated in soy sauce, kelp powder, lemon juice, vinegar, coated in polenta and then fried) with lettuce and spicy peanut sauce for one set of rolls, and lots of veges (and pickled radish!) for the other.
Aren't they all pretty?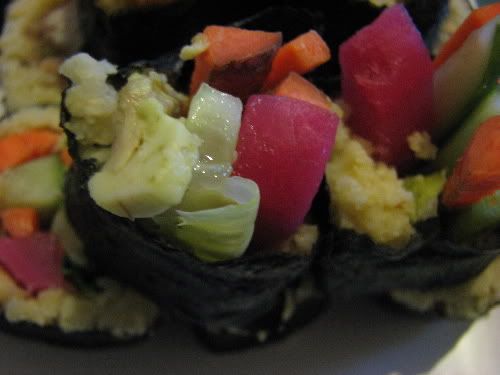 Tofu peanut roll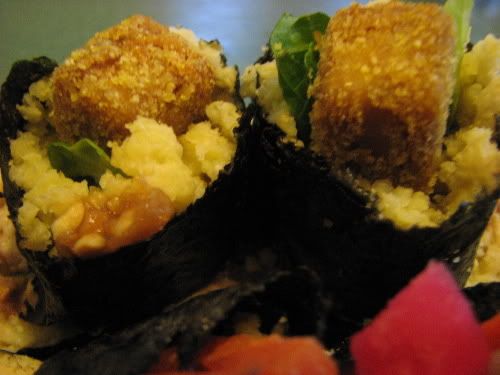 These definitely hit the sushi desiring spot, and I think I'll be making millet sushi from here on out!