More photos...
It's been another hectic month, personally and professionally. I've left my recipe book (the scrappy exercise book where I write down all of my experiments) at home, so here's some cookbook recommendations, some photos and a piece of news that is very new but definitely exciting...
The weirdest thing for me with cookbooks is that I buy them, and I read them, and I love having them, but I rarely cook directly from the recipes. I'll be inspired by the recipes, but fiddly about with them because I can rarely leave well enough alone. Plus, I like incredibly robust flavours, and I've found that most cookbooks don't have the robust flavours that I dig.
Having said all of that, of course Vegan with a Vengeance contains the most perfect recipes and I rarely deviate from them. If I didn't worship Isa Chandra Moskowitz so much, I would hate her due to my seething jealousy of her genius.
Speaking of Isa, here's my birthday breakfast treat - Chocolate Chip Pancakes topped with bananas, peanut butter and maple syrup (I also added a dollop of peanut butter to the batter...mmmm). Not really a breakfast meal, but damn fine nonetheless!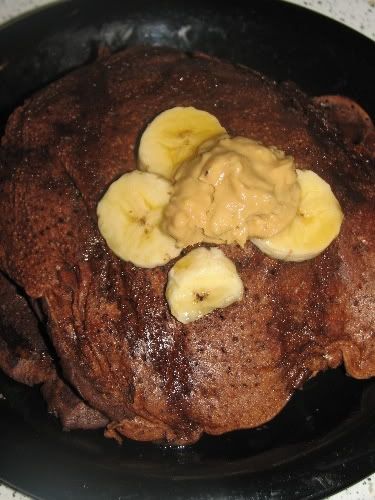 I went on a cookbook binge recently. I was trying to buy clothes, and bewailing the fact that all of the summer clothes I could find seemed to be waging a war against boobies. 'cos they'd fit everywhere but my chest, which was frustrating.

So I bought cookbooks, which always fit and always make me happy.

I got the Candle Cookbook from Amazon...it's interesting looking, and there are some great ideas in there. Nothing has leapt out at me and said "You must cook me now, dammit!" but I'm sure that day will come...

I also got The Complete Idiot's Guide to Vegan Living - it doesn't tell me much that I haven't already learned from living as a vegan for the last few years, but I think it will be good for any of my students who are interested in moving to a vegan lifestyle.

What else? I got a low GI vegetarian cookbook, which inspired me to make a mushroom pate en croute (shiitake mushroom, lemon balm and spinach pate wrapped in puff pastry - fantastic!), with an unusual side dish.

Baked Rosemary Pumpkin and Apple Salad


Ingredients

250g pumpkin
2 medium apples
generous handful of fresh rosemary
3 tablespoons olive oil + 1 tablespoon
2 tablespoons maple syrup + 1 tablespoon
sea salt
1 tablespoon balsamic vinegar
1 tablespoon apple cider vinegar

Method

Preheat the oven to 200 degrees celcius.

Chop the pumpkin into 1 inch pieces, and core and cut the apple into eighths.

Toss the pumpkin, apple and rosemary together in a baking dish with the 3 tablespoons olive oil, 2 tablespoons maple syrup and sea salt.

Bake for about 40 minutes, or until the apple and pumpkin is tender. Remove the apple, pumpkin and rosemary from the baking dish, leaving behind the remaining cooking juices. Mix the 1 tablespoon olive oil, maple syrup, balsamic vinegar and apple cider vinegar together. Pour over the apple and pumpkin and toss gently.

Serve warm.

Last but not least, I got Vegan Planet. It doesn't have any food pictures (boo!!) but it does have a huge range (400 recipes!) of ideas and different pairings of foods and flavours, so that's very exciting.

I am, of course, well excited that Veganomicon is on its way - I still have to order a copy, but it's going to be totally worth it, I'm sure!!

I've been badly behaved when it comes to eating my dark leafy greens (I have a bizarre salad phobia - which is weird, because I really enjoy them when I eat them, I just dread the concept...), so I was really glad to have stumblingly created a gorgeous pesto (that isn't a true pesto, given that it doesn't contain any basil, olive oil, parmesan or pine nuts, but hey, it's an easy name to give it!)

The base recipe (which I'm still fiddling with) is spinach, walnuts, Tofetta, nutritional yeast, garlic and flaxseed oil. It freezes well, and can be used on pasta, or mixed with cheezy white sauce and poured over steamed cauliflower (highly recommended), or as a base for pizza, or to make herb-y bread to have with dinner, or on sandwiches. I'm really enjoying playing with it, and here's the first thing I made with it - angelhair pasta with spinach pesto, kalamata and green olives, and Cheatin' Chicken:




Yay for spinach and food processors!!

My exciting piece of news, which I'm not sure if I should be sharing 'cos the official formal signing hasn't happened, but I'm going to share because, you know, EXCITING!, is that the lovely folks at aduki publications have accepted my cookbook submission, and I will be writing and they will be publishing a cookbook of Vegan Indulgences - twenty sweet treats for vegans.

....

Eeeeeeeeeeeeeeee!!!! I'm a little bit happy ;-) Thank you Emily!
And anyone out there in blogland who is interested in (eventually, when I've bedded down what I'm doing) being recipe testers for me, please let me know - I would like to get as much feedback as possible!