Sunday at home...
...means making lots of foods.
Breakfast on Sunday, for those of us who work the Monday to Friday job, should always always be a treat. Sometimes I go out, sometimes I stay at home, but I always make sure to have something different from my usual breakfast.
This morning's breakfast was blueberry waffles (bought frozen, heated in the oven), organic bananas and strawberries and Strong Cheddar Sheese.
Nekkid:
Smothered in maple syrup: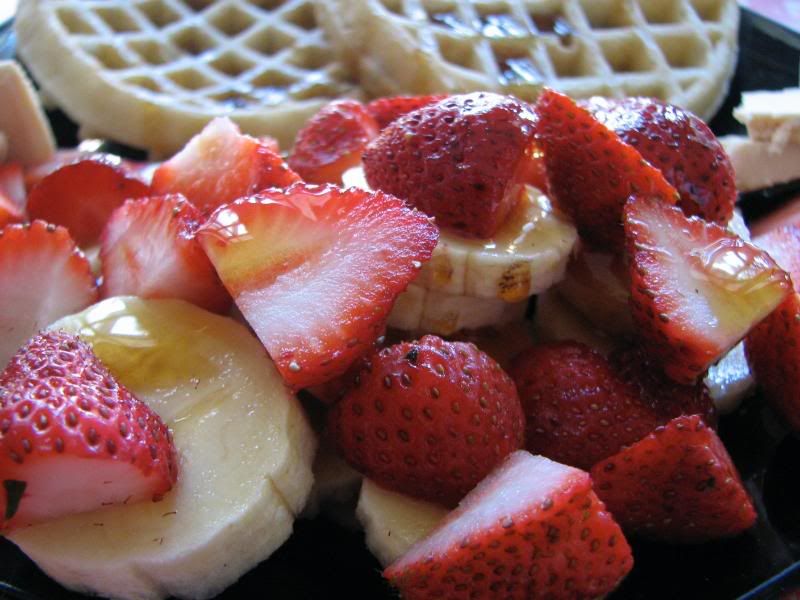 Lunch was something very simple, but mucho tasty. Organic baked beans, with a bit of Herbamare seasoning salt, hot sauce and nooch stirred through whilst cooking, served with spelt sourdough piled high with avocado. Dude. So good.
I spent some time today planning foods for the rest of the week, based around the box of organic fruit and veges I got last Wednesday. Listy list:
Barley risotto with two mushrooms (button and shiitake) cooked in sun dried tomato stock
Tofu saag with spiced rice
Waldorfesque - pear, walnut, celery and cos salad with Blue Sheese dressing
Carrot, snowpea and glass noodle salad
Broccoli and asparagus sesame salad with smoked tofu
Warm salad of roast tomato, garlic and smoked tofu with barley and rocket
Beans and greens pie
Jerk shiitake mushrooms (a take on Jerk Seitan from VwaV)
Citrus tart with citrus/vanilla buckwheat shortcrust pastry
Apple walnut breakfast muffins
So, for dinner I made this: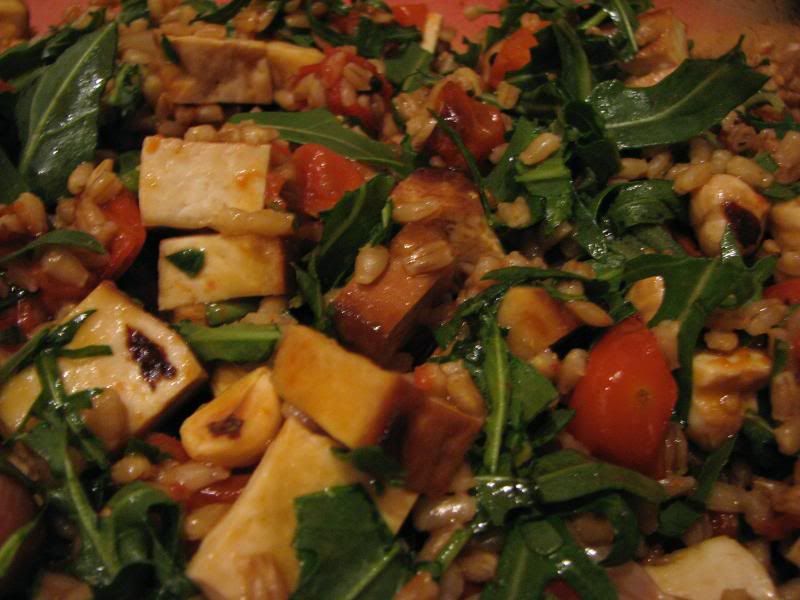 I roasted cherry tomatoes, cubed smoked tofu, garlic cloves, sea salt and peppercorns in olive oil in a very hot oven for 30 minutes. I cooked pearl barley in vege stock until tender. I mixed the barley into the roasted tomatoes et al, then dressed with balsamic vinegar and maple syrup, before stirring through chopped rocket and a handful of roasted hazelnuts.
So very very good. I had to stop myself from having seconds, leaving myself with an awesome lunch tomorrow!!
I'm hoping to keep to my list of foods, and VeganMoFo will (fingers crossed) help me achieve that goal.
Last but not least, my ongoing attempt to create a lovely citrus tart (please excuse the inevitable cat hair):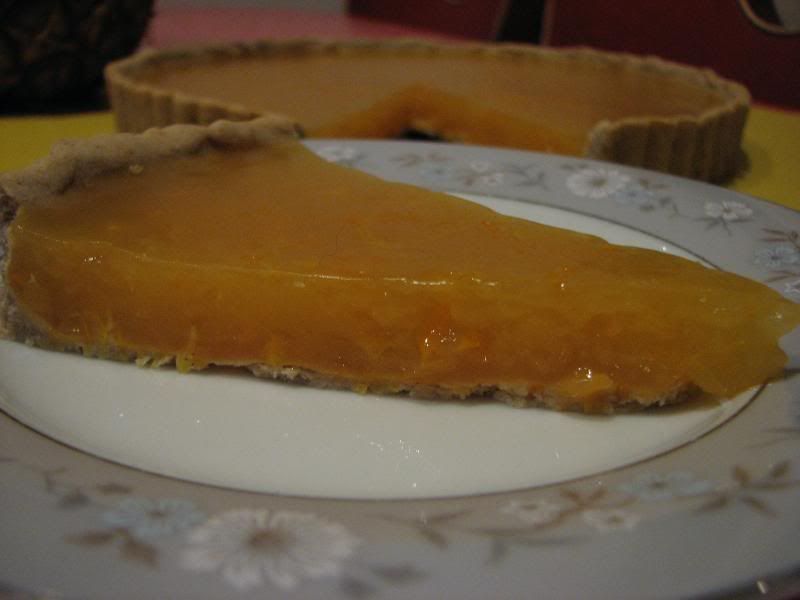 I'm still some way off from perfecting it, but it's okay. I managed to make 2 (oops), so I'm hoping that it's nice enough for other people to want to eat - I think the lovely nutty buckwheat crust may freak folks out a bit. I'll wait until it's totally chilled to make the call, but I'm pretty sure I'll take it into work anyway...
I liked today, it was filled with slow moving, relaxed watching of cats in the sun and making lovely new foods that I've never had before. Always a good day when that happens. Made of win.