Iterations of pasta...
When I'm feeling a little uninspired, I fall back on pasta with [ingredient]
. This week I have done two iterations of much the same pasta dish - lemon sauce with greens.

So, first iteration from Saturday (I think).

Lemon sauce of melted Nuttelex, lemon zest, garlic, spring onion, nooch and lemon juice. Organic penne, petit pois (or baby peas to you and me) and torn basil thrown in at the last minute. Lovely and fresh tasting.


Tonight's iteration - lemon sauce as above, but with some olive oil and some of the cooking liquid from the pasta to make it more liquid, with asparagus cooked quickly with the pasta, shredded spinach and stuffed green olives. All topped with faux fish fingers.

Less fresh and more filling, but lots of fun and great to eat!!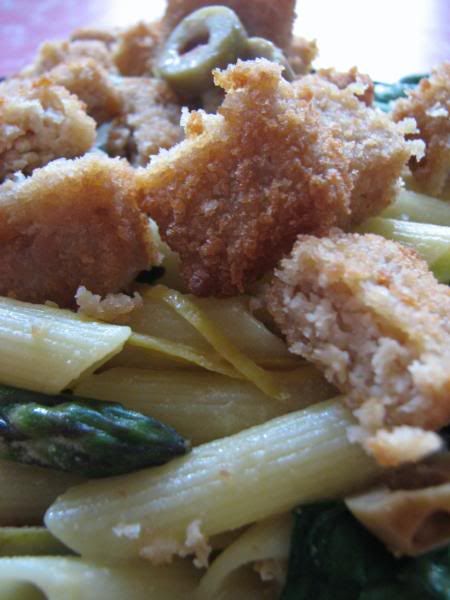 Lemon nooch sauce is a great light sauce, and a break from pasta with tomato-based sauces - plus it takes only as long as the cooking the pasta, making the sauce at the last minute. Which is always helpful when you want food quickly after work!