Look ma, no hands! curry
The other day was incredibly warm, and I was feeling incredibly lazy. I wanted Indian style curry, but without the effort of standing over a hot stove and stirring and all of that other fun but enervating effort.
So I thought, "Self", I thought, "How about a hands free curry?" And thus the following so-called recipe was created...
Look ma, no hands! curry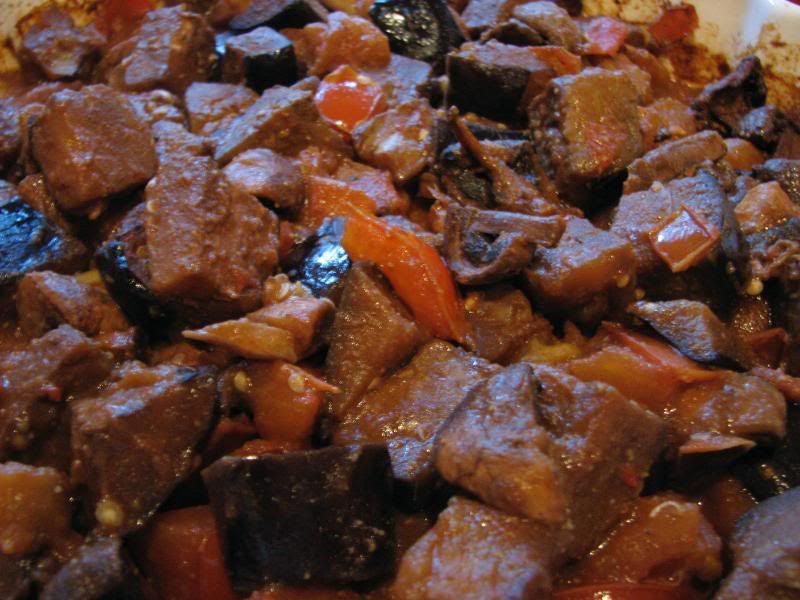 Ingredients
1 medium eggplant
4 cloves garlic
3 small tomatoes
1 cup mushrooms
1 tablespoon oil
1/2 cup passata
1/2 teaspoon sea salt
1/2 teaspoon garam masala
1/2 teaspoon cumin
1 teaspoon coriander
1/2 teaspoon chilli flakes
1/4 teaspoon cinnamon
1/2 cup water (not all may be needed)
1/4 cup Nuttelex
Method
Preheat the oven to 200 degrees celcius.
Cube the eggplant (1cm x 1cm square). Lightly crush the garlic cloves, keeping them and the skins on. Put into a baking dish and toss with the tablespoon of oil.
Bake for 20 minutes, or until the eggplant is starting to soften. Add the salt, spices and passata, and bake for another 10 minutes. Add the tomatoes, mushrooms and enough of the water to moisten and create a gravy. Bake for another 15 to 20 minutes, or until the vegetables are softened and the liquid is gravy like. Stir through the Nuttelex just before serving.
I served mine with quinoa that I cooked in the rice cooker and then tossed with a little Nuttelex. For some fresh crunch, I topped everything with finely chopped spring onions. And of course, one has to have mango chutney!