What to do with those pesky leftover veges?
Warning: I am incredibly long winded, so be prepared to be here for a while...
I get fortnightly deliveries of fresh organic vegies (if you're in the Sydney area, check out
Lettuce Deliver
- great, fresh food, friendly family business) and often when it's the day before delivery of the new box I have still lovely but generally a bit unhappy bits of veges left. I usually make a shepherd's pie in those situations, but decided on a Lentil and Vege lasagne this time around.
Ingredients
Lentil and Vege Sauce: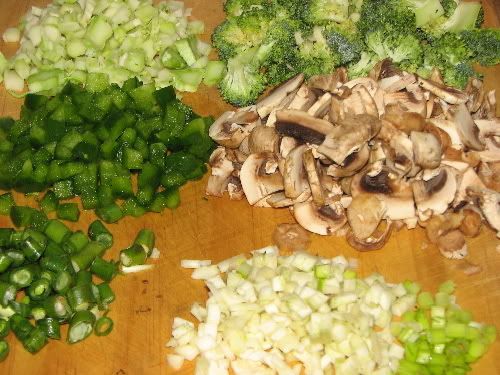 Half a cup of uncooked red lentils, rinsed
1 can of brown lentils
2 cans of chopped tomatoes
minced garlic (much as you like - I like a lot!)
minced shallot/spring onion/onion (see garlic for amount)
1/2 broccoli stem, peeled and diced
1/2 broccoli head, chopped small
handful of beans, diced
2 handsful of mushrooms, sliced
1/2 green capsicum, diced
1/2 handful chopped basil
juice of one lemon
pepper sauce, or good grinding of black pepper to taste
salt/stock cube (optional)
splash of vegan worcestshire sauce (Newmans is generally a safe bet)
splash of extra virgin olive oil (do not fear the olive oil - this is a good fat)
Casheez Sauce
This is not my recipe, unfortunately, but from a
post by Dragonf
ly
at
vegweb
. I highly recommend trying this out - it's a dry mix that is made from cashews,
nutritional yeast
, salt, onion powder and garlic powder. I add pepper and mustard to give it a little more bite. You then mix half a cup of the dry mix with 1 cup of water and heat it until it thickens. I actually use a double amount for my lasagne (1 cup dry mix, 2 cups water).
If you don't have the time, patience, facilities or interest in making the casheez, then a cheesy white sauce is the go:
Cheezy White Sauce
1 to 2 tablespoons
Nuttelex
2 to 3 tablespoons plain flour
2 to 3 cups soy milk
nutritional yeast, salt, pepper to taste
Additional ingredients
Lasagne sheets -
San Remo
are a good bet for vegan pasta.
For this lasagne, I added in layers of roughly chopped rocket and basil. I often thinly slice and steam sweet potato, adding it in layers to replace some of the Casheez/White Sauce. None of this is necessary, but does add a nice complexity of flavours to the dish.
Process
Lentil and Vege Sauce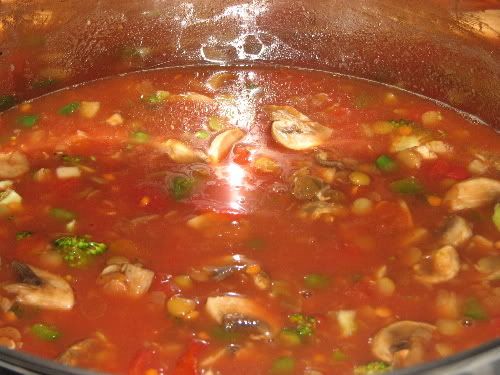 Heat the oil in a large heavy bottomed saucepan, over a medium hot flame/heat. Toss in the garlic and shallots, and cook until translucent and fragrant. Add the broccoli stems and beans, and cook for a couple of minutes. Add the broccoli heads and capsicum, and cook for another couple of minutes. Pour in both the red and brown lentils and stir through vigourously. The mix will start to stick a little, so movement is very important to make sure it doesn't burn.
Throw in the mushrooms and toss quickly. Pour in the splash/es of worcestshire sauce and pepper sauce/grinding of pepper. Pour in both the tins of tomatoes, and fill one of the tomato tins with water. Stir the tomatoes through the vege/lentil mixture. Add the lemon juice and the water (from the tomato tin, remember?) If you're using salt or stock, add it now.
Keep the mixture at a fairly medium high heat, and stir regularly. When the liquid has cooked off, and the mixture is thick and maybe even sticking a little, take it off the heat and set aside. Now, cook your Casheez/White Sauce.
Cheezy White Sauce
(see Ingredients for Casheez Sauce process)
In a heavy bottomed saucepan, above a medium heat, melt the Nuttelex. When melted, add the flour and stir until fully combined and cooked (but not coloured). You can add the nutritional yeast now, if you want - just gets it out of the way! Add all the soy milk slowly, making sure that no lumps appear) and stir continuously until thickened - around the consistency of very thick cream. Season with salt and pepper.
Layer upon layer upon layer


In a square/rectangular, relatively deep, casserole or baking dish, place a little of the lentil and vege sauce in the bottom. Place lasagne sheets on top, and then top them with enough of the Casheez/White Sauce to thinly coat them. At this point, I added some rocket and basil, and then another layer of lasagne sheets. Keep piling it all up, alternating sauces (don't use too much of the Casheez/White Sauce - you want that for the top!) and other ingredients. Finish with a layer of lasagne sheets and top with a thick layer of Casheez/White Sauce - making sure it covers every section of the lasagne sheets.
Pop into a hot oven (around 200 degress celcius) and cook for about 35 minutes, or until the pasta is tender. It's a good idea to turn the dish at about half way through the cooking cycle.
Let the lasagne sit in its dish for a few minutes, then slice up and serve with lots of salad greens!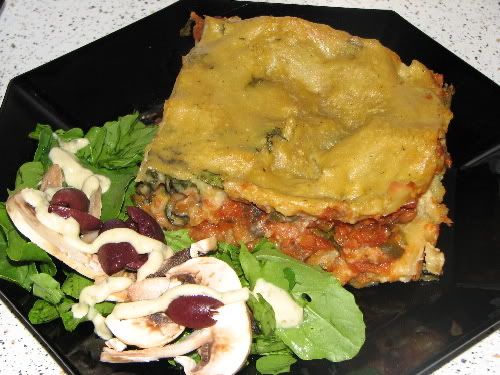 Share and enjoy!