Peanuts + Soba + Veges = Nummy Goodness!
So, this is not a recipe for those of you with peanut allergies - or anyone who feels in any way precious about peanut sauce recipes.
This has become a regular dinner at my place, ever since friends of mine made it at their place one night. I became obsessed with replicating it
sans
recipe, and developed my own version (which is slightly different every time I cook it, depending on what's available at the time).
The mainstays of this meal are: peanut butter, soba noodles and fresh crisp veges, cut into approximate matchsticks. Pretty much whatever else you put in is up to you! My favourite type of recipe...
Peanutty Soba Noodles
Ingredients
Peanut Sauce
2 tablespoons peanut butter
1/2 to 1 tablespoon
miso
1/2 to 1 tablespoon
hoi sin
sauce
1/2 to 1 tablespoon soy sauce
1/2 tablespoon palm sugar
1 tablespoon ginger, minced
1 tablespoon garlic, minced
1 tablespoon chilli, minced (if you don't have fresh chillies, I often use a "hot and spicy" sauce that I get from
Vegan's Choice
- or you could use sweet chilli sauce and omit the palm sugar)
1 spring onion, white part chopped (reserve the green part for the garnish)
1/2 cup water
juice of 1 lemon
olive or canola oil for frying
Veges


I generally use carrots cut into matchsticks, green beans sliced thinly on the diagonal, mushrooms sliced thinly and if I've got 'em, snow peas sliced thinly on the diagonal. I've also used thinly sliced leek as a main vege, and broccoli and cauliflower sliced thinly. The only veges I probably wouldn't use are "winter" veges - potato, sweet potato, pumpkin etc.
Soba Noodles and Garnishes
I'm a
soba noodle
fan, so I use quite a lot. Generally about 2 bundles should feed 2 to 3 people.
As far as the garnishes go, when I first had this meal made for me, it was served with
wakame
for crumbling into it, and
gomashio
. I think I've made it a little more Indonesian style than Japanese style - though mostly it's just ZB style, so...
I find it essential to finish this meal with a drizzle of sesame oil. The green part of the spring onion, thinly sliced, sprinkled on top is lovely. I often add sesame sprouts, which are lovely and crunchy and very mustardy. The garnish just adds an additional freshness to the dish.
Method
Noodles
Put a big pot of water on to boil. It doesn't need to be salted, as the soba noodles contain salt. When the peanut sauce is complete, put the noodles in the boiling water and cook to directions (generally about 5 minutes). When cooked, drain and cool with cold running water.
Peanut Sauce
Heat the frypan over a medium heat. Splash in a little oil (if using) and the garlic, ginger and chilli. Cook until fragrant, but not coloured. Add the spring onion, and cook for a moment. Pour in the hoi sin sauce and add the palm sugar, and move around until the palm sugar has melted. Add the peanut butter, and mix together thoroughly. Pour in half of the lemon juice, and add the miso. Mix until combined. Pour in the water (adding more if the sauce is too thick - it should stay quite thin, so that there's enough to coat all the veges and the noodles), the soy sauce and the rest of the lemon juice.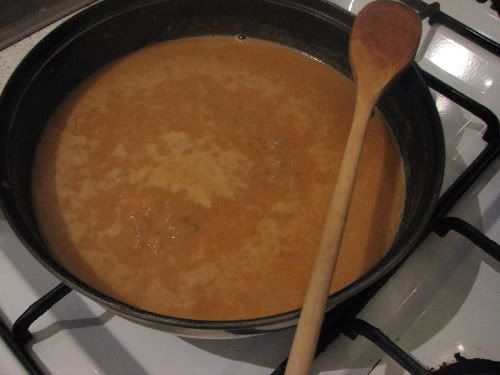 Leave over a low heat to simmer - if it thickens too much, add a little more water, and bung the noodles on and jump straight to the next step!
Putting it all together
I generally put the beans into the peanut sauce whilst it's still on the heat, just to cook them a little.
Take the peanut sauce off the heat, add the veges, and stir them through. Add the noodles, and stir so that the noodles are coated with the peanut sauce and veges. Using tongs, transfer to bowls and top with garnishes of choice (don't skimp on the sesame oil - it's gorgeous tasting!)
Grab some chopsticks, and share and enjoy!!