Baking experiments - Orange/Grapefruit Biscuits
Unfortunately, baking is where my confidence in cookery (and especially vegan cookery) falters a bit. There are a few things that I know how to bake, and bake well, and I will post them eventually. However, I always want to learn a bit more, and find other things to cook.
The most daunting thing about vegan bakery is replacing eggs. I've found that homemade apple sauce (cook peeled chopped apples in water until they become a smooth sauce), well mashed banana, or ground linseed mixed with water make great egg replacers. I don't really like
Egg Like
because of its distinctive taste - but I think I'll give it another go some time soon.
So, what I generally do is go to
vegweb
, find some recipes, and experiment. The results of these experiments range from "Woo hoo!!" to "...ummmm" to "I see where you were going with this..."
I thought I'd share my recent bout of baking with you, and give you my thoughts on how the experimental recipe-jiggin went...This round of baking was brought on by the need to use up a lot of oranges - I have been reduced to only 2 serves of fruit a day on my new dietary regime (as opposed to about 4 or 5), and thus I am finding myself with lots of fruit going begging. I don't want to waste it, so finding new ways to use it up is very important to me.
I should note that these interpretations of recipes are not particularly low GI friendly, though I did try to jig them in that direction...
So. First off I made a version of
Lemon Tea Cookies.
The original recipe ingredients (as you can see from the link) went something like this:
Original Ingredients
2 teaspoons lemon juice
1/2 cup soymilk
1 3/4 cups flour
3/4 cup sugar
1 teaspoon baking powder
1/4 teaspoon baking soda
1/4 teaspoon salt
1/2 cup soy butter
1 tablespoon flax seed (linseed) combined with 3 tablespoons water
1 teaspoon grated lemon rind
Lemon glaze: 3/4 cup sugar and 1/4 cup lemon juice
The ZB version of the ingredients
1 cup orange and grapefruit juice
1 cup self raising flour
3/4 cup steel cut oats, ground to a coarse flour
1/2 cup canola oil
3/4 cup sugar
1 tablespoon flax seed (linseed) combined with 3 tablespoons water
grated rind of three oranges
Method
In one mixing bowl, beat the canola oil for about a minute, then add sugar and beat until thoroughly combined and as fluffy as you can make it. Add the linseed mixture and orange rind and beat well (I found that the linseed mixture helped the oil and sugar to beat together better).
Add the flour and oat flour to the above mixture, alternating with the juice, until well combined.
Drop from a teaspoon onto an ungreased biscuit tin. They will spread when baking, so make sure you leave a good deal of space around them. From a heaped teaspoon of batter I got biscuits that were about 3 cm across. Bake for 15 minutes, or until golden around the edges.
Remove from biscuit tin and cool on a wire rack.
Here they are: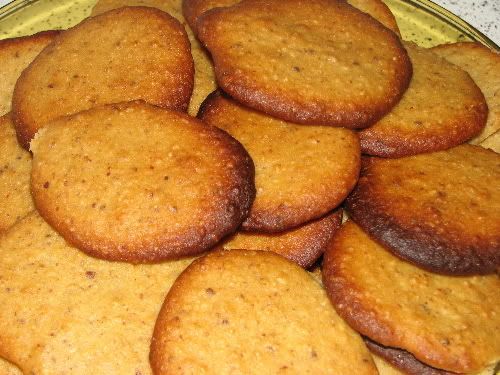 Out of the bakery experiments from this past Sunday, I found these to be the best. The disappointment is that they smell very citrusy, but don't deliver on the taste. They taste like...biscuits.
I think what I'd do next time is reduce the amount of sugar, and definitely use lemon instead of orange - lemons have such a strong taste, and the orange is totally lost in this biscuit mixture.
One of the frustrating things about getting recipes from international sites, US especially, is that I'm often not familiar with the expected flavours of the food that I'm cooking. The cuisine is so very different between the US and Australia - I find the US recipes contain much more sugar than I am used to. However, the joy of cookery comes from experimentation, which is why I keep trying!
Make your own changes - or follow the original recipe to a T - let me know how it turns out, and share and enjoy!