Monday March 2nd, 2009
I am very tired, and can't think of a witty title, so have decided that unless extreme inspiration strikes, the titles of the blog posts throughout March will be the day and date of the month. Bland, perhaps, but I like to think of it as a base flavour on which to layer the awesomeness of the day and foods consumed therein!!
Today was a good day - tiring, but good. Mondays are my day to make cakes and sweets, and do R&D, for naked espresso in Newtown. Today I made: Carrot Cake Bites from some leftover carrot cake and soy cream cheese - kind of like truffles with a heart of carroty cake goodness; Beesting cake; and version 0.4 of a vegan
Vanilla Slice
. I'm waiting to hear tomorrow as to whether the vanilla slice set properly - fingers crossed! Can you imagine going to a vegan cafe and getting a pie and a vanilla slice? It's too damned Aussie for words!! Heh.
Tonight I tried an almost raw dish. I took the inspiration from the
Vegan World Fusion Cuisine
cookbook from Blossoming Lotus - "Aiyah's Garden Living Corn Chowder" (forgive the ridiculous recipe title, just quoting here....)
This thick soup uses a base of corn, with avocado as a thickener, and a little zing from chilli. I changed up the recipe a little.
ZB's Almost Raw Thick Corn Soup
Ingredients
3 cups water
3 cups corn
1 cup avocado
1/2 cup celery
1/2 cup onion
1 tablespoon Braggs
1 inch knob ginger, peeled and minced
2 cloves garlic, minced
1 pickled chilli, minced
1/4 cup lime juice
1 teaspoon hot pepper sauce
1 can red kidney beans
1/2 cup fresh coriander, chopped
Method
Put all of the ingredients, bar the kidney beans and coriander, into a bowl and whizz with an immersion blender until thick and as smooth as possible.
Stir through the kidney beans and chopped coriander. Chill in the fridge and serve chilled.
As I have been doing all of the last week, I accompanied this meal with a ginormous salad.
I've been obsessing with the following salad dressing:
2 tablespoons lemon or lime juice
4 tablespoons flaxseed oil
1 teaspoon hot sauce
1 teaspoon Braggs
3 tablespoons nutritional yeast
Whisk the first four ingredients together until combined, and then whisk in the nutritional yeast. Pour over greens and raw nuts and NOM!!
Superextremecloseupdude!!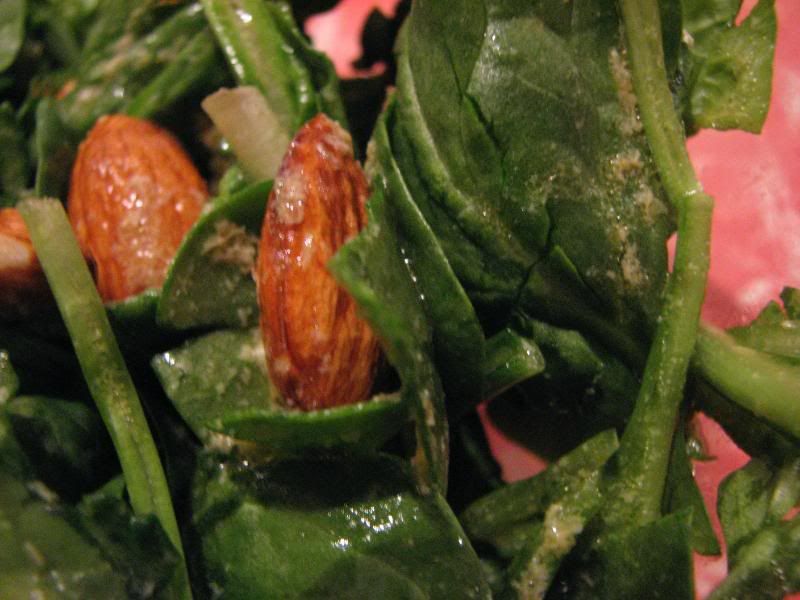 All in all, very happy with my first almost-raw experience, and am looking forward to leftovers tomorrow!