Sunday March 8, 2009
A great day was today. Fabulous foods, lovely friends, I got more pictures hung on my hallway wall (slightly naughty 1940s lovelies, fun times!) and it rained. Some of my very favourite things.
Lots of foods consumed today. Sunday is breakfast-at-naked-espresso day, so it's always a good day. In keeping with my lack-of-bread raw-when-possible eating habits (which are accidental, I swear, but which I'm really enjoying!), I got the Aussie Breakfast - smoked tofu, baked beans, roast tomato, spinach and mushrooms - sans the usual additions of toast and hash browns. Most yumcious!!
I spent a lot of money at my local organic foods store, laying in the veges and fruits I need for the next week's foods. Then went to the mall and got picture frames. Exciting stuff!!
(Argh the sodding Sam Neill "eat meat" ad is on in the background as I write this. Hate. Hate. Hate.)
Lunch was at Foodorama at Newtown, where I got the vegan lentil burger sans burger bun. Lentil patty, grated beetroot, grated carrot, sprouts, hummous...tasty goodness!! .... There may have also been potato fries, but they may also have been my imagination....
Dinner was fantabulous, much enjoyed. And here it is!
I always forget how much I adore coleslaw, but the every time I make it I rediscover the crunch, the tartness, the sweetness, the mixture of flavours...(OMG the fucking advert is on AGAIN! Argh!)....where was I?
Yes. Anyway. How 'bout a recipe for delicious, healthy, brain boosting vegan coleslaw, what do you say?
Zesty Coleslaw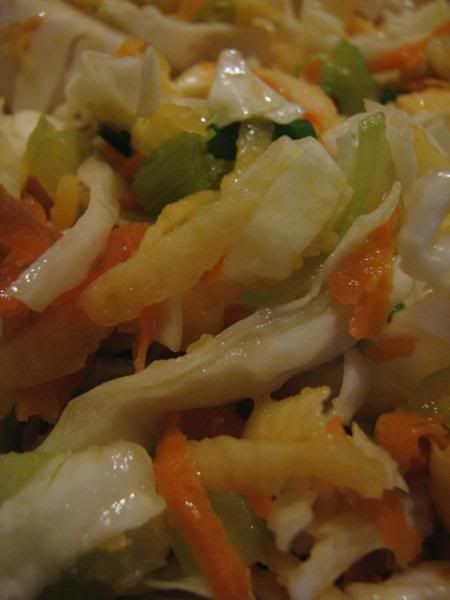 Ingredients
1/2 large red chilli, minced
1 cup celery, finely sliced on the diagonal
1 cup apple, grated
1 cup carrot, grated
2 cups cabbage (red or green), finely sliced
1/4 cup spring onions, finely sliced
2 tablespoons lemon juice
4 tablespoons lime juice
6 tablespoons flaxseed oil
1 teaspoon hot sauce
1 teaspoon Braggs
1 teaspoon mild mustard
Method
Mix the first six ingredients together in a large bowl. In a small bowl, whisk together the last six ingredients. Pour the dressing over the vegetables, mix well, and set aside for 30 minutes before serving.
Olive Lime Pate
Not the sexiest dish on the planet, but my goodness, it was a damnably tasty dish....
Ingredients
1/2 cup green olives, roughly chopped
1 clove garlic, roughly chopped
1/4 large red chilli, minced
1 tablespoon lime zest, minced
1 teaspoon fresh thyme, minced
1 1/4 cups (1 can) cannellini beans
4 tablespoons lime juice
2 tablespoons flaxseed oil

Method
Whizz the ingredients together in a food processor until smooth. Set aside for 30 minutes before serving.
I finished up my ridiculously tasty and filling meal with a great dessert of fresh fruit. Not the best photo, but what the hell.
Dragonfruit
(it's like eating perfume!!) and grapes.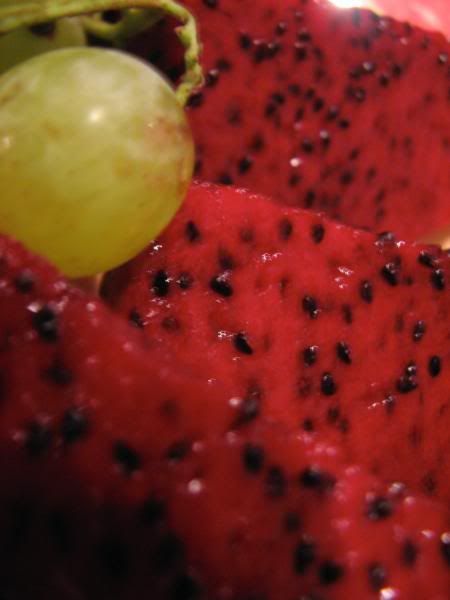 Tomorrow I'm going to make my very first green smoothie, just to jump on the bandwagon!! I've got frozen banana, frozen peach, frozen pear, kale, parsley, baby spinach, flaxseeds, walnuts, flaxseed oil, oranges and limes to play with - I may also add some of the organic fair trade instant coffee to feed my caffeine addiction, see how it goes. So that should be fun! Monday is also the day that I cook sweets for naked espresso, so it's a very vegan food friendly day!!
Off to watch
Anchorman: The Legend of Ron Burgundy
, and then to bed.