Perfect Quiche
I spent most of a week planning and thinking about and tinkering with a quiche recipe in my head, and I finally made it and ate it with great relish and enjoyment on Friday night.
I've posted about my quiche making efforts before, but this has to be my favourite quiche iteration - simple, tasty, very much more-ish.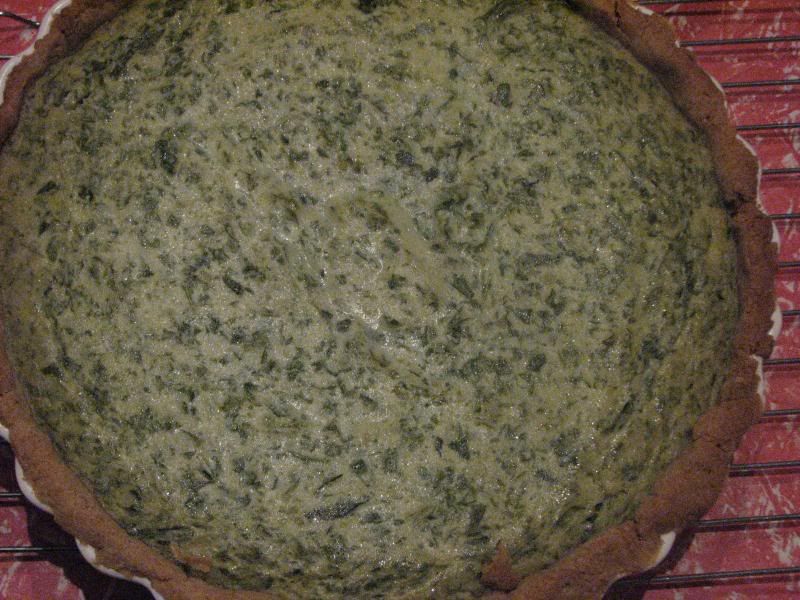 I made the base from the
Cheezy Quacker
recipe from
have cake will travel
, using a mixture of amaranth and barley flours. It's such a good base for quiche.
And with that, here's the rest of the recipe:
Green Quiche
Preheat the oven to 150 degrees Celcius. Make the Cheezy Quacker crust as per the above recipe.
Filling Part 1
1 head roasted garlic (about 1/3 cup)
2 packets firm silken tofu (about 2 cups)
3/4 cup nutritional yeast
1 tablespoon Herbamare seasoning salt
2 tablespoons hot sauce
2 tablespoons lemon juice
1/3 cup soymilk
1/2 teaspoon umesu
1 tablespoon onion flakes
Place all of the ingredients into a food processor and process until very smooth.
Filling Part 2
2 cups, firmly packed, rocket
2 cups, firmly packed, baby spinach
1/2 cup, firmly packed, fresh basil leaves
1/3 cup olive oil
Place all of the ingredients into a food processor and process until chopped.
Mix the greens into the tofu mixture well.
Pour into the Cheezy Quacker shell and bake for 30 to 40 minutes, or until the centre is slightly wobbly. Turn off the oven and let the quiche cool in the oven for 10 minutes before serving.
Then nom. Nom. Nom. And nom some more.