May the Fourth (be with you) Birthday Dinner
My friend Phil's birthday is May the Fourth, and I've always remembered it due to the puntastic value of that date. I love how everyone now seems to refer to it as Star Wars Day, which is fun.
So my gift to Phil was dinner and some Castle watching, and I'm happy to say that the meal was really tasty good times.
Phil's girlfriend Neibi brought over some marvellous 1970s style placemats (as well as dressing as Princess Leia, which was brilliant - less brilliant was my being Anakin Skywalker due to my sticky-uppy blonde hair), balloons, pink glasses and orange straws in a fabby straw dispenser.
Neibi provided food creation support, including the smearing duty for the incredibly tasty roasted garlic pesto bread, which I made using great wodges of basil from my garden!!
Roasted Garlic Basil Bread
1 1/2 heads roasted garlic (about 1/2 cup)
1 cup firmly packed fresh basil
1 teaspoon Herbamare seasoning salt
1/3 cup nutritional yeast
1/2 cup Nuttelex
3 tablespoons olive oil
Process all of the ingredients in a food processor until the basil is well chopped and the rest of the ingredients are smooth.
We had a loaf of ciabatta given to us by Charles at naked espresso, and I sliced it on the diagonal and Neibi smeared the slices with the mixture.
The oven was preheated to 200 degrees Celcius, and I put the slices under the grill until the mixture was melted and the bread was golden.
Dee-freaking-licious. I'm telling you. Give it a good Aussie bash, your tastebuds will thank you!
The bread was a side dish to the main event - classic lasagne. Here is the lasagne, just before slicing and rampant consuming, posing with the side salad and Phil's birthday cake. And, of course, the fabulous table decorations.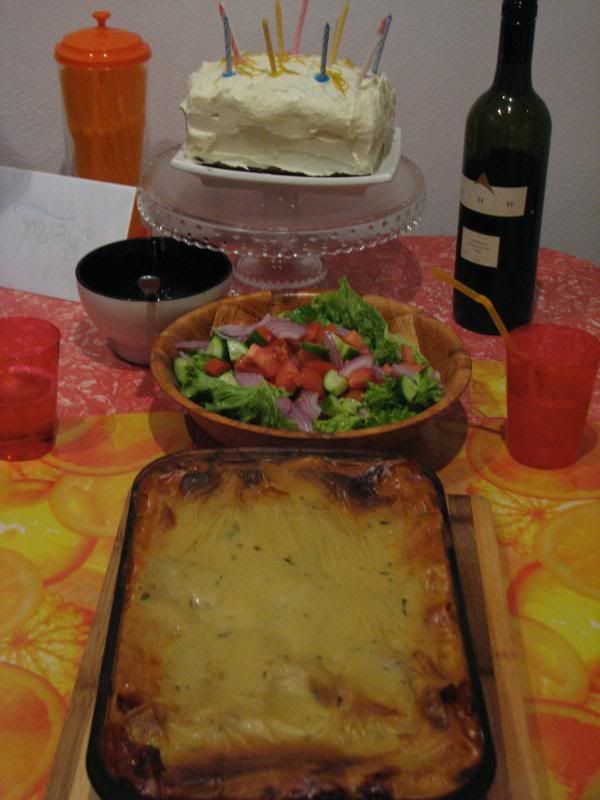 Classic Lasagne
Filling
1 packet tempeh (about 1 1/2 cups)
9 shiitake mushrooms (fresh are fine, but dried and rehydrated have a great bite)
2 small beetroot
1 1/2 heads roasted garlic (about 1/2 cups)
2 tablespoons olive oil
2 cans tomatoes (about 4 cups)
1 cup water
1/2 tablespoon garlic powder
1/2 tablespoon chilli flakes
1/2 tablespoon onion flakes
1/4 cup dried Italian herbs
1 tablespoon hot sauce
1/4 cup Braggs
1/4 cup lemon juice
1 1/2 tablespoons BBQ sauce or tomato paste
White Cheezy Bechamel
2 cups vegetable stock
1/2 cup soymilk
3 tablespoons plain flour
3/4 cup nutritional yeast
1 1/2 tablespoons garlic powder
1/4 Nuttelex
1 teaspoon Herbamare seasoning salt
1 packet no cook lasagne sheets
Method
Preheat the oven to 200 degrees Celcius.
Filling
Chop the tempeh, shiitake mushrooms and peeled beetroot in a food processor until finely chopped. Pour into a bowl and add the mashed roasted garlic.
Heat olive oil in a deep frying pan over a medium high heat, and add the tempeh mixture. Saute for about 5 minutes, then add the garlic powder, onion flakes, chilli flakes and Italian herbs, and toss through for a minute. Pour in the lemon juice, hot sauce, Braggs and BBQ sauce/tomato paste and stir through well. Pour in the tomatoes and water, and mix thoroughly. Turn the heat to medium and simmer, stirring occasionally, for about 30 minutes, or until thickened and rich. Take off the heat.
White Cheezy Bechamel
Melt the Nuttelex in a saucepan over a medium high heat. Cook the flour in the Nuttelex, then add the garlic powder, salt and nutritional yeast to form a paste. Slowly add the hot stock, stirring in between every addition of stock to form a smooth paste and then sauce, and finish with the soymilk.
Putting it all together
Pour a 1/2 cup of the filling onto the base of a casserole dish, and layer with lasagne sheets. Alternate filling, lasagne sheets and bechamel, finishing with lasagne sheets and bechamel on top.
Place in the oven and bake for 20 to 30 minutes, or until a knife finds no resistance in the pasta sheets.
Let sit for about 10 minutes before serving, this will make it firmer and easier to slice and serve.
Then....NOM!!!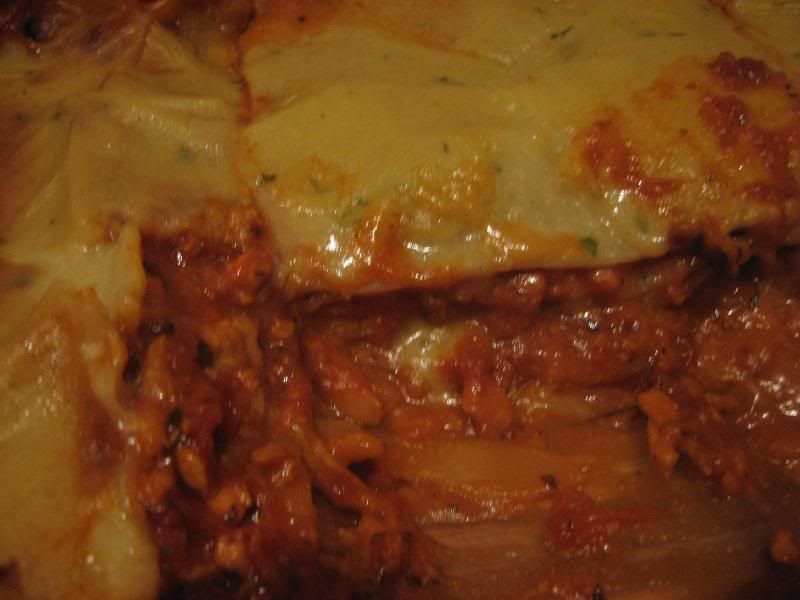 Phil and Neibi, about to enjoy their meal:
Close up of Phil's requested birthday cake - ginger cake with lemony icing.
It was a wonderful night. I really enjoy making food for other folks, and it was great to celebrate Phil's birthday with him and Neibi, two folks who I not only adore and enjoy spending time with, but who I love a great deal.