A whole new world
So, I have begun a new diet regime in an attempt to actually drop the weight that I've been attempting to shift for the last 2.5 years. This was created with a naturopath and is not quite as crazytimes as I expected it to be. In fact, to semi-misquote a friend of mine, "you say, give me the most restrictive diet you can, and I will make it into something fabulous." I am having a great time making interesting and diverse and tasty dishes under the following rules:
Breakfast: 30g unsweetened cereal + 1 piece of fruit + 240mL soy milk OR 170g tofu/tempeh + 170g cooked vegetables
Lunch: 170g legumes OR 170g tofu/tempeh + 170g cooked vegetables + 170g salad + 1 piece fruit + 1 tablespoon olive oil + 1 tablespoon flaxseed oil
Dinner: 170g legumes OR 170g tofu/tempeh + 170g cooked vegetables + 170g salad + 1 tablespoon olive oil + 1 tablespoon flaxseed oil
The great thing about this diet is that it is teaching me how to appreciate portion size, and it's making me think really hard about making new and exciting ways of eating protein and veges.
I've made up a great breakfast cereal of organic puffed rice, rolled quinoa and rolled amaranth, which I've been having with organic pear and vanilla soymilk, and which has been a great start to the day!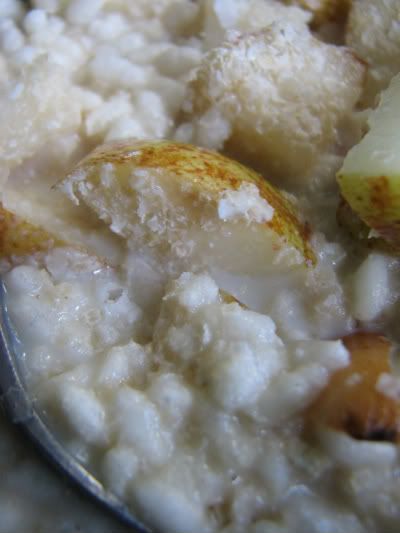 Lunch is a fairly standard bowl o' food - today was chickpeas, steamed broccoli and cauliflower, sprouts and grated carrot, dressed in a flaxseed oil/lemon juice/hot sauce/salt dressing.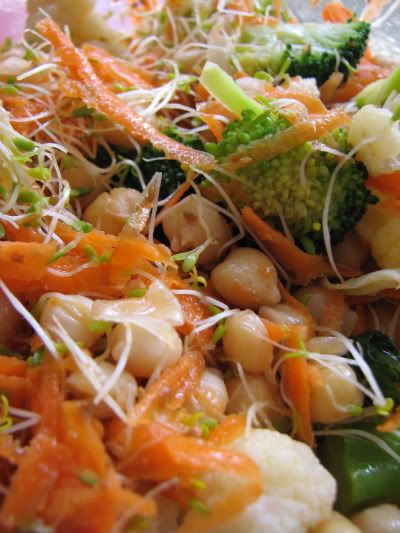 Dinner is where I've been having lots of fun. I've only been on the new regime for a couple of days, so I only have a couple of examples (and recipes!) to date. I also have a restricted set of veges available to me at the moment, so the "salad" section of the meal has been a variation on red coleslaw - red cabbage, grated beetroot, grated carrot, dressing as per lunch - for both meals.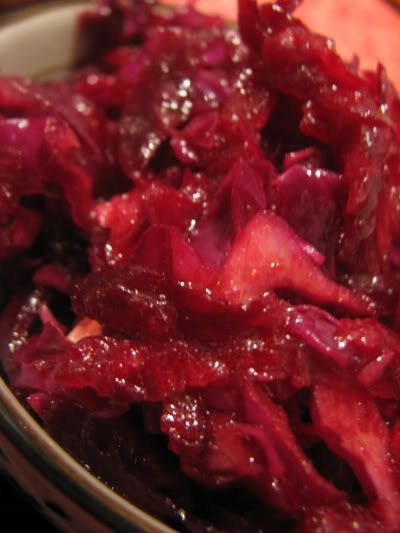 And now for some actual recipes!!

Smoky BBQ Miso Tempeh Skewers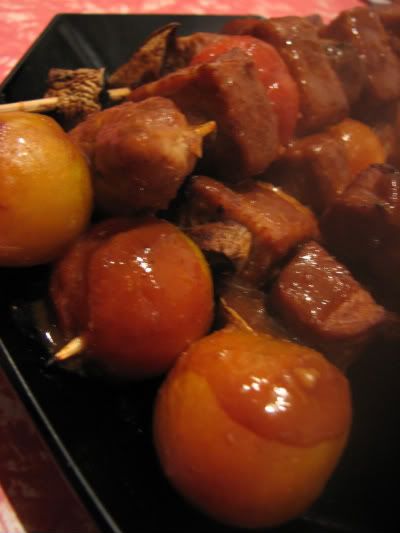 Ingredients
170g tempeh
70g mushrooms
100g baby tomatoes
1 1/2 tablespoons miso
1/2 tablespoon liquid smoke
2 tablespoon BBQ sauce
1/2 cup water
1 tablespoon olive oil
Method
Cube the tempeh. Whisk together the miso, liquid smoke, BBQ sauce and water. Marinate the tempeh overnight.
Preheat the oven to 190 degrees Celcius.
Cut the mushrooms into chunks. Alternate tempeh, mushroom and tomatoes on a skewer. Place onto a baking tray, and drizzle with a little of the marinade - reserve at least 2/3 of the remaining marinade to make a sauce - and the olive oil.
Bake for about 30 minutes, turning once, until the tomatoes have started to crinkle and split.
While the skewers are baking, put the reserved marinade and another 1/3 cup water into a saucepan over a high heat and cook down until there is about 1/3 cup thickened sauce left.
Serve the skewers drizzled with the marinade, and red coleslaw on the side.
Tonight's dinner was shared with Phil and Neibi, and they seemed well impressed with this concoction!!
Tempeh-Bean Rissoles with Tomato Sauce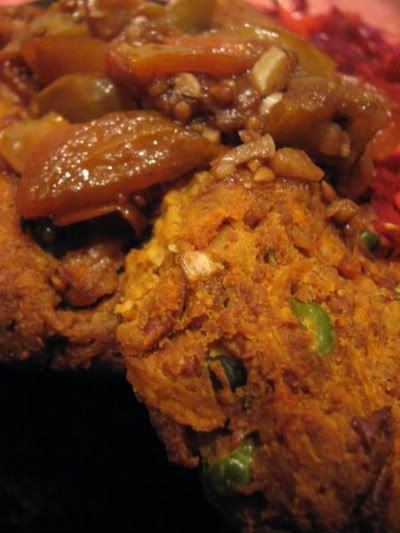 Ingredients
Rissoles
100g tempeh
70g borlotti beans
50g carrot
30g peas
10g spring onions
1/2 tablespoon garlic powder
1/2 teaspoon ground fennel
1/2 teaspoon paprika
1/2 teaspoon chilli flakes
1 teaspoon thyme
1/2 tablespoon miso
1 tablespoon lemon juice
1 tablespoon olive oil
Tomato Sauce
90g baby tomatoes
2 tablespoons balsamic vinegar
1 clove garlic, minced
1/4 to 1/2 cup water
Method
Preheat oven to 180 degrees Celcius.
Rissoles
Steam the tempeh for 10 minutes. Cool.
Finely slice the spring onion, and place into a large bowl. Add the beans and mash well. Grate the tempeh and carrot into the bowl. Add the peas. Mix together. Add the herbs and mix well. In a small bowl, whisk together the miso and lemon juice, then pour into the tempeh-bean mixture. Using your hands, mix and squeeze the tempeh-bean mixture together until you can form a patty using the mixture.
Drizzle the olive oil into a baking tray.
Using about 2 dessertspoons of tempeh-bean mixture, form into 1cm thick rissoles. Coat both sides with the olive oil, and place in the baking tray. Bake, without turning, for about 30 minutes or until the edges of the rissole are browning and the top is dry. Allow to sit for about 5 minutes after removing from the oven before serving.
Whilst the rissoles are baking, make the:
Tomato Sauce
Roughly chop the tomatoes, and place into a saucepan with the rest of the ingredients - use only 1/3 cup water at this point. Cover with a lid and set onto a high heat. Cook until most of the liquid has cooked off, and keep adding a little more water and cooking down until the tomatoes are almost completely broken down - about 25 minutes.
Serve the rissoles topped with the tomato sauce.
I have spent the last couple of nights feverishly writing down ideas for meals, so thought I'd share some of those ideas here:
Borscht with Beans
Tempeh Steak with Noochy Cauliflower Mash
Ginger Miso Chickpeas and Broccoli with Cos Salad
Indian Spiced Chickpeas and Cumin Raddichio
Roasted Beetroot and Tempeh Bacon with Cos Salad
Creamy Coconut Thai Style Curry
Cheezy Tofu Casserole
A take on the Asian Pear and Tempeh Salad from Veganomicon
Beans and Vegetables in Pesto
Tempeh/Tofu Steaks with Shiitake Gravy on Red Salad
Red Lentil, Tomato and Kale Stew
Tofu Kale Saag
Not Really Bruschetta
I look forward to trying these ideas and sharing them all with you folks out there!!